Facial patterns such as skin and hair colour may have evolved to help primates recognize and communicate with others of their species.
Sharlene Santana and her colleagues at the University of California, Los Angeles, analysed skin and hair colour patterns in the faces of adult males of 129 species of primate from the Americas (a sampling pictured). The authors found that species living in smaller groups have more complex facial features. This suggests that these animals, which interact with each other less frequently than those living in larger groups, are more dependent on facial patterns to recognize members of their own species. Living near a greater number of related species also contributes to facial diversity, regardless of group size.
However, ecological factors also play a part — species range, for example, seems to drive the evolution of hair length and the pigmentation of certain facial features.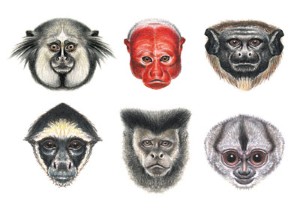 About this article
Cite this article
Social life shapes primate faces. Nature 481, 240 (2012). https://doi.org/10.1038/481240a
Published:

Issue Date:

DOI: https://doi.org/10.1038/481240a