The Royal Society for the Promotion of Health has awarded the inaugural Queen Elizabeth Medal to Dr Lynette Coetzee, who founded the Transnet Phelophepa Health Care Train in South Africa in 1994.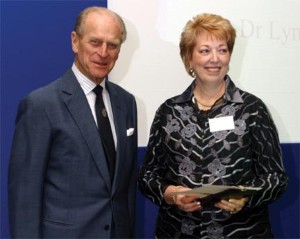 Phelophepa – a hybrid name derived from Sotho and Tswana and meaning 'good clean health' – began operating as a mobile primary healthcare clinic in 1994 and has reached more than 1.1 million people since inception of the programme.
The initial 13-coach train provided healthcare and education to rural communities across South Africa. Now 16 coaches long, the Phelophepa Train contains eye, health and dental clinics with X-ray facilities and provides HIV/AIDS and counselling workshops.
His Royal Highness, Prince Philip, the Duke of Edinburgh, presented the award at The Royal Society for the Promotion of Health Annual Awards Ceremony at Claridge's, London. The society celebrates 100 years of royal patronage this year, and in order to mark this milestone, its patron, Queen Elizabeth, gave permission for the society to introduce a new award, the Queen Elizabeth Medal.
The medal is to be awarded annually to encourage and recognise individuals who make an outstanding contribution to public health within the Commonwealth.
About this article
Cite this article
Royal award. Br Dent J 197, 227 (2004). https://doi.org/10.1038/sj.bdj.4811658