Clampdown aims to stop spread of drug-resistant microbes.
Alarmed at signs that the overuse of antibiotics in farm animals is blunting these key weapons against human disease, governments are taking action.
In industrial farming, antimicrobials are commonly given to farm animals to treat infections, and prophylactically to prevent disease or spur growth. But there is growing concern that excessive use on farms is helping to breed antibiotic-resistant microbes, from Salmonella (see 'Rising resistance') to Escherichia coli, which are harder to treat when they infect people.
The US Food and Drug Administration (FDA) is now moving to protect key antibiotics known as cephalosporins, which are used in humans to treat a range of infections, including pneumonia. On 4 January, the agency said that it would prohibit certain uses of cephalosporins in farm animals including cattle, pigs, chickens and turkeys, because overuse of the drugs is "likely to contribute to cephalosporin-resistant strains of certain bacterial pathogens". If cephalosporins become ineffective in treating human diseases, the FDA said, "doctors may have to use drugs that are not as effective, or that have greater side effects".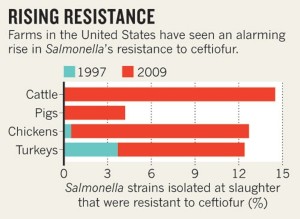 The new rules, to come into effect on 5 April, restrict veterinary surgeons to using the two cephalosporin drugs specifically approved for food-producing animals — ceftiofur and cephapirin — and ban prophylactic use. In animals not listed in the FDA order, such as ducks or rabbits, vets will have more discretion to use the drugs.
Most antibiotic classes are used both in animals and in humans, so the FDA is also considering tightening controls on all classes of antimicrobials used on farms. It is reviewing comments on rules that would prohibit the use of any antimicrobial drug to promote animal growth, a move that would be welcomed by many vets. "We would support greater veterinary oversight of antimicrobial drugs," says Christine Hoang, assistant director of scientific activities at the American Veterinary Medical Association in Schaumburg, Illinois.
The European Union (EU), which already forbids the use of antimicrobials to promote growth, plans to strengthen its own rules. Its new antibiotic-resistance strategy, published in November 2011, calls on EU countries to ensure that antibiotics are only available on prescription, and to strengthen surveillance systems to track and report cases of resistance (see Naturehttp://doi.org/cshmhv;2011).
Although it is widely accepted that overusing antibiotics can be a major driver of resistance in microbes, the evidence linking antibiotic use in farm animals with resistance in humans is still controversial (A.E.Matheretal.Proc.R.Soc.Bhttp://doi.org/hj8;2011). A research programme coordinated by Europe's Innovative Medicines Initiative could provide some answers: in the next few months it will call for proposals for €350 million (US$445 million) in grants to understand how resistance arises, and to develop new antimicrobial drugs.
Antimicrobial resistance is also this year's top priority for the intergovernmental World Organisation for Animal Health (OIE), based in Paris. Bernard Vallat, director-general of the OIE, says that it is working with the FDA and the World Health Organization to help developing countries to improve their legislation covering the control, distribution and use of veterinary antimicrobials. The three organizations plan to urge governments to put vets in charge of allocating the drugs and to ban preventative use.
"There are over 100 countries worldwide without legislation. Antibiotics are sold like sweets," Vallat told Nature. "There is no control and this is a major risk to animal and human health."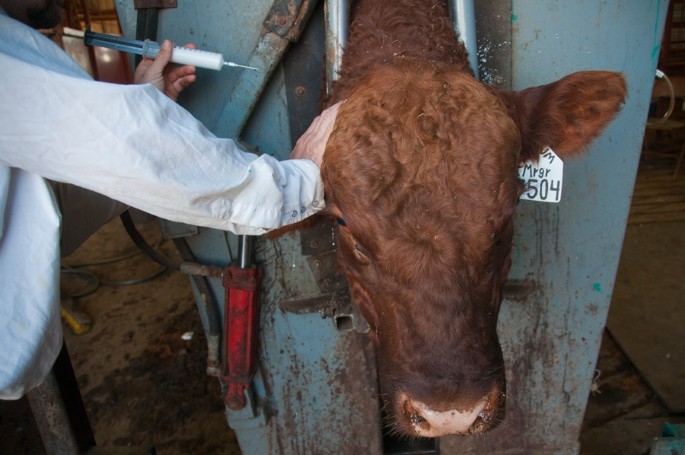 Related links
Related links
Related links in Nature Research
Related external links
About this article
Cite this article
Gilbert, N. Rules tighten on use of antibiotics on farms. Nature 481, 125 (2012). https://doi.org/10.1038/481125a
Published:

Issue Date:

DOI: https://doi.org/10.1038/481125a
This article is cited by
Juma Muhammad
Sardar Khan
Abid Ali

Journal of Soils and Sediments (2020)