The idea that space-time might be fundamentally fuzzy is much debated among theorists. A search for signatures of this effect on light from distant cosmic sources has come up empty-handed, but shows the potential of this approach.
Access options
Subscribe to Journal
Get full journal access for 1 year
$199.00
only $3.90 per issue
All prices are NET prices.
VAT will be added later in the checkout.
Tax calculation will be finalised during checkout.
Buy article
Get time limited or full article access on ReadCube.
$32.00
All prices are NET prices.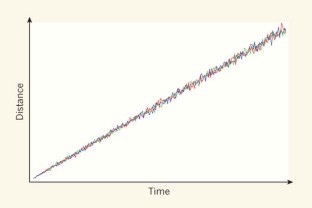 References
Stachel, J. in 100 Years of Relativity (ed. Ashtekar, A.) 3–36 (World Scientific, 2005).

Tamburini, F., Cuofano, C., Della Valle, M. & Gilmozzi, R. Astron. Astrophys. 533, A71 (2011).

Wheeler, J. A. Geometrodynamics (Academic, 1962).

Carlip, S. Rep. Prog. Phys. 64, 885–942 (2001).

Amelino-Camelia, G. Nature 398, 216–218 (1999).

Ng, Y. J. & van Dam, H. Found. Phys. 30, 795–805 (2000).

Lieu, R. & Hillman, L. W. Astrophys. J. 585, L77–L80 (2003).

Ragazzoni, R., Turatto, M. & Gaessler, W. Astrophys. J. 587, L1–L4 (2003).

Christiansen, W. A., Ng, Y. J., Floyd, D. J. E. & Perlman, E. S. Phys. Rev. D 83, 084003 (2011).
About this article
Cite this article
Amelino-Camelia, G. Shedding light on the fabric of space-time. Nature 478, 466–467 (2011). https://doi.org/10.1038/478466a
Published:

Issue Date:

DOI: https://doi.org/10.1038/478466a