Antibodies that neutralize many strains of HIV seem to work by interacting with the virus's sugary coating.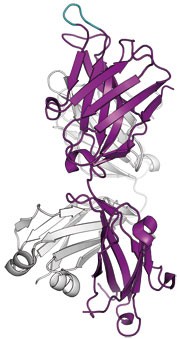 Dennis Burton and Ian Wilson at the Scripps Research Institute in La Jolla, California, led a team that obtained detailed crystal structures of two broadly neutralizing antibodies bound to mannose sugars, which are present in the coat of the virus. The structure of one of the antibodies, PGT 128 (pictured), shows that it penetrates the viral coating and binds to a short strand of an HIV envelope protein called gp120, as well as to two sugars that are conserved across many HIV strains. This explains why PGT 128 can neutralize more than 70% of strains.
The results suggest that the antibodies achieve their potency by crosslinking highly accessible sections of key proteins on the surface of HIV particles. The authors say that these regions could be targets for vaccines.
About this article
Cite this article
HIV meets its antibody match. Nature 478, 289 (2011). https://doi.org/10.1038/478289a