The burrowing silvery mole-rat is one of only a handful of mammalian species that can continuously replace its teeth, an adaptation to a high dental wear-and-tear lifestyle.
Most mammals develop only two generations of vertically growing teeth. But in a few species, teeth are continuously replaced, moving horizontally towards the front of the jaw in a treadmill-like way. Helder Rodrigues and Laurent Viriot at the University of Lyons in France and their colleagues report that the silvery mole-rat (Heliophobius argenteocinereus; pictured) combines features of both dental systems: replacement teeth move towards the front of the jaw as they grow in vertically one after the other in a mechanism reminiscent of an escalator.
The authors say that the animal could be a good model for studying tooth evolution in mammals.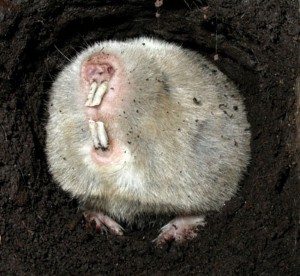 About this article
Cite this article
Mole-rat's toothy tale. Nature 478, 288 (2011). https://doi.org/10.1038/478288a