Farm subsidies trimmed to enable a 45% rise for research.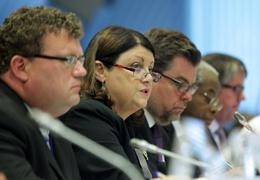 Like many governing bodies, the European Union (EU) has entered an era of austerity, with one striking exception: scientific research. Under a proposal released on 29 June by the European Commission, the executive body of the EU, spending on research and innovation would rise by about 45%, from €55 billion (US$80 billion) over the current 2007–13 period to €80 billion in 2014–20. A reduction in farm subsidies would help to pay for science, and spending in other major areas of the €1-trillion budget would remain flat (see 'Innovative thinking').
The proposal is a crucial milestone in a long and convoluted process that will eventually determine the size and format of the successor to the Seventh Framework Programme (FP7) — the EU's flagship research programme — to be called Horizon 2020. The proposal still needs be agreed by the European Parliament and by member states. But it marks a success for the EU's research commissioner, Máire Geoghegan-Quinn, says Peter Tindemans, head of the science-policy working group at Euroscience, a science-advocacy group headquartered in Strasbourg, France. "She's managed to convince the other commissioners that where there's to be an increase at all, it should be in research."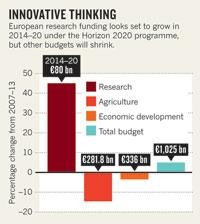 Other research advocates say that the proposal — although falling short of the major realignment of funding priorities they had been hoping for — was as good as could be expected in the circumstances. "Given the times we're in, we couldn't realistically have hoped for much more," says Dieter Imboden, president of Eurohorcs, the body representing Europe's national research agencies.
Geoghegan-Quinn told Nature that the proposal was "a big vote of confidence in science" but also called on researchers to push to get the proposal implemented — especially in their home countries. "The farmers will be out there lobbying, and scientists and researchers need to do the same," she says.
Commission officials say that the total EU budget for 2014–20 would be worth 5% more, in real terms, than that for 2007–13. The share for research and innovation would grow steadily, and eventually double, from 4.5% in 2007 to 9% by 2020.
The research proposal includes €4.5 billion that would be transferred from farm subsidies to pay for agriculture-related research. Although the share of the total budget consumed by the Common Agricultural Policy would fall by some 3%, to about 36%, several observers say that the commission was unable to win support for a more radical transfer of resources from farm subsidies. "The chance to make really big changes to the Common Agricultural Policy has been lost," says Tindemans.
Geoghegan-Quinn says that there are three main pillars to the proposal: excellence in science, meeting 'grand challenges' such as food security, and improving competitiveness.
She says that a much stronger focus will be brought to bear on the grand challenges than before, driven by powerful committees called European Innovation Partnerships. The first such partnership, addressing 'healthy ageing', started earlier this year, and is going well, Geoghegan-Quinn says, with its board set to select about ten research priorities, and "push forward with them very quickly".
Geoghegan-Quinn promises "quick decisions" this year on proposals for the management and structure of the European Research Council, the new and widely lauded component of FP7 that backs basic research, which will be released next week by a commission working group.
The commission's proposal also says that future cost overruns on ITER, a giant nuclear-fusion experiment under construction in France, will have to be borne by member states, and will not come from the EU budget or fall on other research programmes.
The budget plan will now be scrutinized by the European Parliament and the Council of Ministers, representing the 27 EU member states, before emerging in final form by 2013. The parliament is widely expected to ask for even more funds for research and innovation, whereas many member states will seek cuts to this and other portions of the commission's proposal.
Jerzy Langer, a physicist at the Polish Academy of Sciences in Warsaw and a close observer of European research policy, says that the outcome so far has been "very good" and indicated "huge determination at the very top" of the commission to support research. He predicted that even such member states as the United Kingdom — which has already said that the overall budget plan is too large — would back the proposed increases for research.

But Luke Georghiou, a policy expert at the University of Manchester, UK, says "it is extremely unlikely that the member states will agree to anything exceeding this, so we should regard it as a ceiling" on the eventual research budget.
Related links
Related links
Related external links
About this article
Cite this article
Macilwain, C. Europe lines up hefty science-funding hike. Nature 475, 14–15 (2011). https://doi.org/10.1038/475014a
Published:

Issue Date:

DOI: https://doi.org/10.1038/475014a