Abstract
A female chimpanzee called Ai has learned to use Arabic numerals to represent numbers1. She can count from zero to nine items, which she demonstrates by touching the appropriate number on a touch-sensitive monitor2,3, and she can order the numbers from zero to nine in sequence4,5,6. Here we investigate Ai's memory span by testing her skill in these numerical tasks, and find that she can remember the correct sequence of any five numbers selected from the range zero to nine.
Access options
Subscribe to Journal
Get full journal access for 1 year
$199.00
only $3.90 per issue
All prices are NET prices.
VAT will be added later in the checkout.
Tax calculation will be finalised during checkout.
Rent or Buy article
Get time limited or full article access on ReadCube.
from$8.99
All prices are NET prices.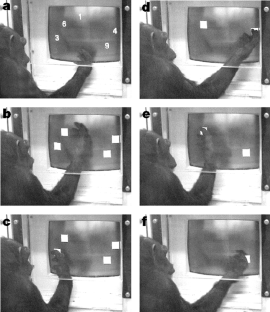 References
1

Matsuzawa, T. Nature 315, 57–59 (1985).

2

Matsuzawa, T., Itakura, S. & Tomonaga, M. in Primatology Today (eds Ehara, A., Kumura, T., Takenaka, O. & Iwamoto, M.) 317–320 (Elsevier, Amsterdam, 1991).

3

Murofushi, K. Jpn. Psychol. Res. 39, 140–153 (1997).

4

Tomonaga, M., Matsuzawa, T. & Itakura, S. Primate Res. 9, 67–77 (1993).

5

Biro, D. & Matsuzawa, T. J. Comp. Psychol. 113, 178–185 (1999).

6

Tomonaga, M. & Matsuzawa, T. Anim. Cogn. (in the press).

7

Miller, G. A. Psychol. Rev. 63, 81–97 (1956).

8

Rumbaugh, D., Savage-Rumbaugh, E. S. & Hegel, M. J. Exp. Psychol. Anim. Behav. Process. 13, 107–115 (1987).

9

Brannon, E. & Terrace, H. Science 282, 746–749 (1998).

10

Boysen, S., Mukobi, K. & Berntson, G. Anim. Learn. Behav. 27, 229–235 (1999).
About this article
Cite this article
Kawai, N., Matsuzawa, T. Numerical memory span in a chimpanzee. Nature 403, 39–40 (2000). https://doi.org/10.1038/47405
Comments
By submitting a comment you agree to abide by our Terms and Community Guidelines. If you find something abusive or that does not comply with our terms or guidelines please flag it as inappropriate.