Glory satellite will make more accurate measurements of solar output.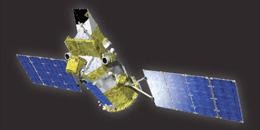 At some point Greg Kopp just got tired of the questions. Every time the solar physicist showed a plot of the Sun's total radiation output as measured by a succession of satellites since 1978, he had to explain an unexpectedly large offset starting around 2003. That was the year NASA's Solar Radiation and Climate Experiment (SORCE) was launched (see 'Mission control'), carrying a new type of sensor developed by Kopp and his team at the University of Colorado's Laboratory for Atmospheric and Space Physics in Boulder.
Kopp initially thought that there was a problem with the sensor, the Total Irradiance Monitor (TIM), which consistently gave a lower reading than its predecessors. Subsequent analyses now suggest that the sensor's readings offer a truer measure of the Sun's total energy output than others. That accuracy is crucial to understanding the 11-year solar cycle as well as the Sun's small but measurable contribution to global warming. Now, with a second-generation TIM scheduled for launch on 23 February aboard NASA's Glory satellite, Kopp believes he has found a way to avoid a future mismatch in detector readings. "I decided that with Glory I was going to solve this problem once and for all," he says.
Kopp's solution was to design a facility that can exquisitely calibrate sensors such as TIM before they launch. The facility includes a variable power laser that acts as a light source and a cryogenically cooled radiometer that is almost immune to temperature fluctuations, all inside a space-like vacuum. By calibrating the detector to the radiometer's readings, Kopp hopes to eliminate almost all ambiguity in Glory's measurements of solar radiation, expected to be three times more precise than those from SORCE.
He has also used the facility to analyse a replica of the SORCE sensor and validate that satellite's readings. On the basis of those and other measurements, Kopp and Judith Lean of the Naval Research Laboratory in Washington DC, calculate that during the 2008 solar minimum, the Sun emitted about 0.34% less energy than previously estimated (G. Kopp and J. L. Lean Geophys. Res. Lett. 38, L01706; 2011). That is not enough to affect estimates of human influence on climate, but it is important for solar physicists. "This is a fundamental quantity that has been pursued for more than 100 years," Lean says.
The design of TIM explains its consistently lower readings. Other sensors typically use a two-stage aperture to gather incoming light. Kopp and Lean suggest that this can allow light to bounce around within the device and contribute to an overestimate of incoming energy. In Kopp's TIM, 99.99% of the solar radiation that enters the aperture disappears down a long tube before getting trapped in a chamber full of what he describes as miniature broccoli heads made of a nickel–phosphorus alloy. The device then measures the amount of heat the sensor derives from the incoming radiation.
Solar physicists hope that the increased precision and confidence built into the current generation of irradiance sensors will compensate for any future lapse in monitoring. Yet continuity remains a high priority. NASA's goal is to get some overlap between Glory and SORCE, which lost one of the reaction wheels used to aim the instrument in September 2008 and has been running on a back-up system ever since. "Overlap among measurements is essential because absolute accuracy is not guaranteed," says Kevin Trenberth, a senior climate scientist at the National Center for Atmospheric Research in Boulder.
Preliminary data from PREMOS, a Swiss-built sensor launched in June 2010 on the French PICARD satellite, seem to align well with the SORCE readings. PREMOS was also calibrated against Kopp's cryogenic radiometer, which bolstered confidence in its initial readings, says principal investigator Werner Schmutz at the World Radiation Center in Davos. "Without this confirmation, we probably would have hesitated with our new value," Schmutz adds.
Researchers are counting on another University of Colorado detector to pick up monitoring duties in 2014. While improvements in calibration mean that researchers can probably tolerate a gap in the record and still compare past and future data with reasonable confidence, Kopp says, such a contingency would be a last resort. The truest test of Kopp's ground-based calibrator will come when Glory begins reporting data later this spring. Kopp says he's not losing any sleep. "I'm really expecting good agreement," he says with a smile.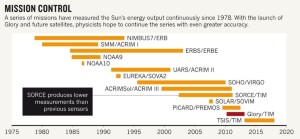 About this article
Cite this article
Tollefson, J. Probe keeps keen eye on Sun. Nature (2011). https://doi.org/10.1038/469457a
Published:

DOI: https://doi.org/10.1038/469457a