New astronomical and laboratory data show that the abundances of the two dominant ices, nitrogen and methane, on the surfaces of the Solar System's two largest dwarf planets are surprisingly similar — raising fresh questions.
Access options
Subscribe to Journal
Get full journal access for 1 year
$199.00
only $3.90 per issue
All prices are NET prices.
VAT will be added later in the checkout.
Tax calculation will be finalised during checkout.
Rent or Buy article
Get time limited or full article access on ReadCube.
from$8.99
All prices are NET prices.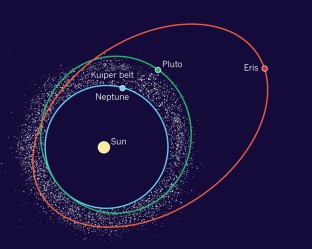 References
1

Tegler, S. C. et al. Astrophys. J. 725, 1296–1305 (2010).

2

Stern, A. & Spencer, J. Earth Moon Planets 92, 477–482 (2003).

3

Jewitt, D. Annu. Rev. Earth Planet. Sci. 27, 287–312 (1999).

4

Davies, J. K. Beyond Pluto: Exploring the Outer Limits of the Solar System (Cambridge Univ. Press, 2001).

5

Cruikshank, D. P., Pilcher, C. B. & Morrison, D. Science 194, 835–837 (1976).

6

Owen, T. C. et al. Science 261, 745–748 (1993).

7

Washburn, E. W. International Critical Tables of Numerical Data, Physics, Chemistry and Technology (McGraw-Hill, 1933).

8

Pinilla-Alonso, N., Licandro, J., Gil-Hutton, R. & Brunetto, R. Astron. Astrophys. 468, L25–L28 (2007).

9

Mumma, M. J., Weissman, P. R. & Stern, S. A. in Protostars and Planets III (eds Levy, E. H. & Lunine, J. I.) 1177–1252 (Univ. Arizona Press, 1993).

10

Verdant, M. & Schwehm, G. ESA Bull. 93, 1–13 (1998).
About this article
Cite this article
Stern, S. Pluto is again a harbinger. Nature 468, 775–776 (2010). https://doi.org/10.1038/468775a