Ice accumulation on aircraft and other structures can be dangerous, but de-icing procedures are expensive or environmentally unfriendly. Joanna Aizenberg at Harvard University in Cambridge, Massachusetts, and her collaborators show how ice could be prevented from forming on cold surfaces.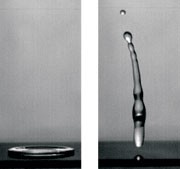 Combining theoretical predictions with experiments, the authors fabricated a silicon surface with honeycomb-like microstructures and coated it with a water-repellent polymer film. There was minimal contact time and heat transfer between the surface and a falling water droplet, such that after it made contact (pictured, left), the droplet fully retracted (right) before it could freeze. This prevented ice formation in temperatures down to about −25 °C.
About this article
Cite this article
Material science: Stopping ice before it forms. Nature 468, 479 (2010) doi:10.1038/468479c
Comments
By submitting a comment you agree to abide by our Terms and Community Guidelines. If you find something abusive or that does not comply with our terms or guidelines please flag it as inappropriate.