New forecasts suggest that coal reserves will run out faster than many believe. Energy policies relying on cheap coal have no future, say Richard Heinberg and David Fridley.
Access options
Subscribe to Journal
Get full journal access for 1 year
$199.00
only $3.90 per issue
All prices are NET prices.
VAT will be added later in the checkout.
Rent or Buy article
Get time limited or full article access on ReadCube.
from$8.99
All prices are NET prices.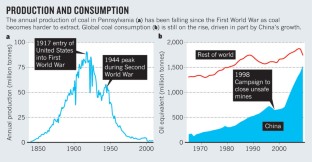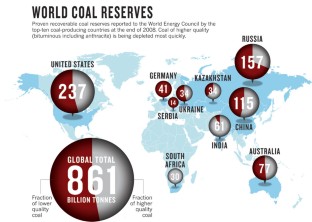 References
1

Patzek, T. W. & Croft, G. D. Energy 35, 3109–3122 (2010).

2

Mohr, S. H. & Evans, G. M. Fuel 88, 2059–2067 (2009).

3

Zittel, W. & Schindler, J. Energy Watch Group, Paper No. 1/07 (2007); available at http://go.nature.com/jngfsa

4

Rutledge, D. Hubbert's Peak, The Coal Question, and Climate Change (2007): available at http://rutledge.caltech.edu

5

Höök, M., Zittel, W., Schindler, J. & Aleklett, K. Fuel 89, 3546–3558 (2010).

6

2010 Survey of Energy Resources (World Energy Council, 2010); available at http://go.nature.com/hde5r7

7

Tao, Z. & Li, M. Energy Pol. 35, 3145–3154 (2007).

8

Campbell, C. J. & Laherrère, J. H. The End of Cheap Oil. Sci. Am. (March 1998).

9

Energy Information Administration. Annual Energy Outlook 1998 (DOE/EIA, 1997).

10

2050 China Energy and CO2 Emissions Report (in Chinese) (Science Press, 2009).

11

Luppens, J. A. et al. Assessment of Coal Geology, Resources, and Reserves in the Gillette Coalfield, Powder River Basin, Wyoming. Open-File Report 2008-1202 (USGS, 2008).

12

Coal Reserves of the Matewan Quadrangle, Kentucky — A Coal Recoverability Study. US Bureau of Mines Circular 9355 (USGS, 2003).

13

Strategic Analysis of the Global Status of Carbon Capture and Storage. (Global CCS institute, 2009).
About this article
Cite this article
Heinberg, R., Fridley, D. The end of cheap coal. Nature 468, 367–369 (2010) doi:10.1038/468367a
Comments
By submitting a comment you agree to abide by our Terms and Community Guidelines. If you find something abusive or that does not comply with our terms or guidelines please flag it as inappropriate.