A section of salt marsh in a Biennale pavilion links the city and its environment, notes Colin Martin.
Villa Frankenstein: Venice Lagoon
The British Pavilion, 12th International Architecture Exhibition, Venice, Italy Until 21 November 2010
Dazed by Venice's architecture, few people look beyond the city to its lagoon. To raise awareness of the lake's ecological complexity and beauty, environmental scientist Jane da Mosto has, with permission, removed a 15-metre-square section of Venetian salt marsh and installed it in a stainless-steel tank washed by artificial tides. It is on display in the British Pavilion of the 12th International Architecture Exhibition (the Venice Biennale) until 21 November.
"Venice is so fragile, in its physical, environmental and even socio-economic dimensions, that we must develop viable plans to ensure its survival," says da Mosto. First-hand experience of nature often generates more emotion than dry scientific data: she reports that locals and visitors who had thought of the lagoon as just a muddy space have been moved by the marsh's beauty.
The Venice lagoon is a winter migration halt and breeding area for 200,000 birds. Along with Tunisia's Gulf of Gabès, it is one of the most important wetlands in the Mediterranean Basin. The exhibition includes taxidermic specimens of 24 of the 60 species of water bird found in the lagoon, lent by the Venetian Museum of Natural History. Maps and panels, prepared by da Mosta and Tom Spencer, director of the Coastal Research Unit at the University of Cambridge, UK, detail the lagoon's wildlife and flora, rivers, inlets, marshlands, water levels and ecology.
In addition to seasonal flooding and mass tourism, the urban fabric of Venice is challenged by rising water levels. Da Mosto and Spencer are analysing historical and contemporary data on the area's geography, hydrology, flora and fauna to illuminate the fragile ecological balance of the lagoon and the consequences of its disruption for Venice's buildings. They aim to articulate how the fate of the city and its waters are connected.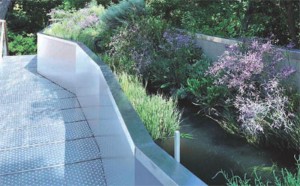 Until the collapse of the Venetian Republic in 1797, the lagoon was well maintained. Waterways were managed, and the waters provided a livelihood for fishermen in the city and outlying islands. When rail and road links to the mainland were established, Venetians' connections to the lagoon dwindled as they came to depend more on tourism for their income.
Appropriately, the exhibition catalogue is printed on 'Alga Carta', a specialist Venetian paper made from harvested algae that would otherwise clog the lagoon. It will be decades before scientists can write 'done' against their lagoon investigation, as the nineteenth-century art critic John Ruskin did for his exploration of the city's architecture. But this is an excellent start.
About this article
Cite this article
Martin, C. Environment: Venice's fragile lagoon. Nature 467, 529 (2010). https://doi.org/10.1038/467529a
Published:

Issue Date:

DOI: https://doi.org/10.1038/467529a