The field of actinide chemistry is still young, not least because the radioactivity of these elements makes them difficult to work with. A study now reveals details of how actinide compounds might behave in water.
Your institute does not have access to this article
Access options
Subscribe to Journal
Get full journal access for 1 year
$199.00
only $3.90 per issue
All prices are NET prices.
VAT will be added later in the checkout.
Tax calculation will be finalised during checkout.
Buy article
Get time limited or full article access on ReadCube.
$32.00
All prices are NET prices.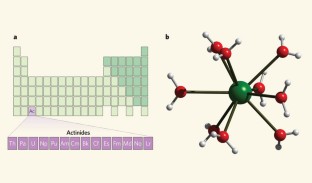 References
Apostolidis, C. et al. Angew. Chem. Int. Edn doi:10.1002/anie.201001077 (2010).

Kobayashi, S. in Aqueous-phase Organometallic Catalysis 2nd edn (eds Cornils, B. & Herrmann, W. A.) Ch. 3, 88–100 (Wiley-VCH, 2004).

Laubereau, P. G. & Burns, J. H. Inorg. Chem. 9, 1091–1095 (1970).

Sykora, R. E., Assefa, Z., Haire, R. G. & Albrecht-Schmitt, T. E. Inorg. Chem. 45, 475–477 (2005).

Avens, L. R. et al. Inorg. Chem. 33, 2248–2256 (1994).

Carmichael, C. D., Jones, N. A. & Arnold, P. L. Inorg. Chem. 47, 8577–8579 (2008).

Fox, A. R., Bart, S. C., Meyer, K. & Cummins, C. C. Nature 455, 341–349 (2008).

Hamidi, M. E. M. & Pascal, J.-L. Polyhedron 13, 1787–1792 (1994).

Schuetz, S. A., Day, V. W., Sommer, R. D., Rheingold, A. L. & Belot, J. A. Inorg. Chem. 40, 5292–5295 (2001).

Arnold, P. L., Casely, I. J., Zlatogorsky, S. & Wilson, C. Helv. Chim. Acta 92, 2291–2303 (2009).
About this article
Cite this article
Arnold, P. Cation o' nine tails. Nature 466, 704–705 (2010). https://doi.org/10.1038/466704a
Published:

Issue Date:

DOI: https://doi.org/10.1038/466704a