Brian Wynne wishes that a book on the vulnerability of scientific evidence to attack by ideologists had grappled more with the larger question of why science is such an easy target.
Merchants of Doubt: How a Handful of Scientists Obscured the Truth on Issues from Tobacco Smoke to Global Warming
Naomi Oreskes &
Erik M. Conway
Bloomsbury Press: 2010. 368 pp. $27, £25 9781596916104
|
ISBN: 978-1-5969-1610-4
In Merchants of Doubt, science historians Naomi Oreskes and Erik Conway describe how a small circle of influential and ideological US scientists paralysed policy action on various environmental and health issues, from the dangers of tobacco smoke to global warming. The group did so by manipulating scientific uncertainty to undermine evidence that supported regulation. Oreskes and Conway document the relentless drive of this doubt-casting juggernaut in more detail than has been done before, and reveal its devastating impact on international policy and science. But they fail to grapple with the larger question of why science is vulnerable to such manipulation.
Fuelled by anti-communist paranoia before and after the cold war, a handful of top US scientists and government advisers perceived a hidden agenda of state intervention in free markets under the guise of acting on environmental or health issues. Supported by millions of dollars of covert commercial funding, this group used scientific uncertainty as political propaganda to defuse what they saw as communism by other means. Their negative messages ploughed through many arenas: challenging environmentalist Rachel Carson's exposure of chemical pesticide damage; undermining scenarios of nuclear winter; dampening evidence of tobacco smoke's toxicity; and fostering inaction on ozone-depleting chlorofluorocarbons, acid rain and climate change. Although Oreskes and Conway do not note it, these campaigns also helped to entrench the prejudice that the burden of proof for harm should be placed on those who advocate intervention against dangerous substances.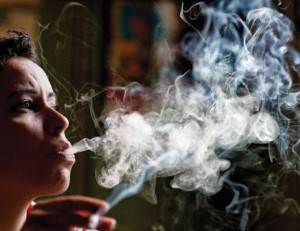 Oreskes and Conway starkly portray science's inherent vulnerability to these tactics. Because uncertainty arises in any scientific study, powerful elites find it easy to derail policies by representing the justificatory knowledge as inadequate, even when collective scientific and related judgement supports intervention. To make science more robust against such attacks, Oreskes and Conway recommend the widespread adoption of peer-review procedures, following the model of the Intergovernmental Panel on Climate Change, with the demand that the public should trust such a process to judge the proper policy significance of scientific uncertainty. The authors rightly support the vigorous rebuttal of doubters' arguments. But they miss a crucial point: the ingrained assumption that scientific evidence is the only authority that can justify policy action — scientism — is what renders both policy and its supporting science vulnerable to the dogmatic amplification of doubt.
A more enlightened institutional culture around science and policy would foster wider debate about the implications of interventions.
The doubters' success lies in the way that policy questions are framed, with science placed at the centre. If a policy commitment is reduced only to a question of whether the science is right or wrong, then evidence can easily be made to unravel. Paradoxically, this happens when science attains its greatest political influence, when it goes beyond supplying the facts to defining the public meaning of problems. Public-policy issues always have dimensions beyond science, and require more than technical responses. When framing debates, policy-makers should prioritize discussion of social benefits as well as science: there are many good non-scientific reasons to reduce global environmental footprints and consumption frenzy, and to pursue greater justice, for instance. If the many factors that go into a policy commitment are recognized, science does not become the sole centre of authority and the sole target for opposition.
A more enlightened institutional culture around science and policy would foster wider debate about the implications of interventions, and of burdens of proof weighed against social benefits and the costs of erroneous outcomes. This might resemble the 'extended peer review' system of philosopher-sociologists of science Jerome Ravetz and Silvio Funtowicz, in which specialists (including non-scientists) review policy-relevant scientific claims but a wider variety of stakeholders bring further knowledge to bear in interpreting them. Rather than assuming that disputes are solely scientific, opening up these decision-making processes would render their primary nature more honestly political and economic, while giving proper weight to scientific reason and evidence.
Merchants of Doubt is an impressive account of science's role in many key public issues of today, especially given the difficulties of accessing archival materials on recent and still-unfolding events. Yet it is incomplete: it does not examine other areas, such as genetically modified organisms, in which grounds for doubt have been downplayed rather than amplified by powerful players to the same deregulatory ends. Oreskes and Conway could have gone further in asking how scientific uncertainty should be interpreted in policy, and how science can be led to overreach itself in arbitrating public facts, meanings and norms.
About this article
Cite this article
Wynne, B. When doubt becomes a weapon. Nature 466, 441–442 (2010). https://doi.org/10.1038/466441a
Published:

Issue Date:

DOI: https://doi.org/10.1038/466441a