Targeted researchers support the legislation, despite free-speech concerns.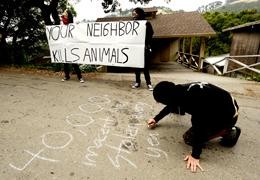 A tough but rarely invoked US law intended to protect researchers from violent and threatening animal-rights activists has stumbled out of the starting gate: last week, a judge dismissed the first prosecution under the law. The decision comes on top of evidence that the legislation has done little to deter illegal incidents, and concerns that it risks restricting free speech.
Yet researchers who have been targeted by activists mostly support the law — and wish that it would be enforced more often and more aggressively. "You could present this as a setback," says John Ngai, a neuroscientist at the University of California, Berkeley, and the university's spokesman on animal research issues. "But this is one step in a lengthy process. The wheels of justice grind really slowly."
The 2008 Animal Enterprise Terrorism Act (AETA), which replaces a less powerful statute, is designed to help end campaigns of harassment against academic scientists. It outlaws property damages at universities and threats that produce a 'reasonable fear' of death or injury for researchers or their relatives.
The law's first major test came in February 2009, when four animal-rights activists — Adriana Stumpo, Nathan Pope, Joseph Buddenberg and Maryam Khajavi — were arrested and later indicted under the AETA, for incidents at the homes of several University of California system researchers in 2007 and 2008. The group, with other protesters, wore bandanas over their faces and wrote messages such as "Stop the Torture", "Bird Killer" and "Murder for Scientific Lies" on the pavement with blue and purple chalk, according to police reports. The protesters allegedly burst through a researcher's door and one of them hit her husband with an object.
But on 12 July, a federal judge dismissed the indictment for being too vague: prosecutors did not say which of the activists' alleged actions violated the law. However, prosecutors are free to re-indict if they can show how particular actions crossed the line.
By classing animal-activist crimes as 'terrorism', the statute has succeeded in bringing more law-enforcement resources to bear on the issue, especially from the Federal Bureau of Investigation, says Frankie Trull, president of the pro-animal-research National Association for Biomedical Research (NABR) in Washington DC.
Yet Trull has been disappointed with the results so far. Several dangerous crimes remain unsolved, including the firebombing of a house and car belonging to researchers in Santa Cruz, California, in 2008, and the March 2009 torching of a car belonging to David Jentsch, a neuroscientist at the University of California, Los Angeles (UCLA). "Why aren't they arresting these guys?" asks Trull. "It is hard to believe that these extremists are so sophisticated that they don't leave any trail."
There are also few signs that the law has been a deterrent. The number of illegal incidents fluctuates wildly (see 'Wrongs in the name of animal rights'), and analyses by groups on both sides of the issue — the NABR and the activist-sympathizing Bite Back magazine — show no clear effect on the number or nature of attacks since the AETA was passed.
Most law-enforcement efforts against animal rights-related crimes in the past decade rely on other legislation. In California, which sees the bulk of US attacks, the state's Researcher Protection Act of 2008 has made it a misdemeanour to publish the names and locations of researchers to encourage crimes against them. Under other state laws, UCLA has been granted injunctions that ban several activists from approaching researchers' homes. Activists have also been successfully pursued under anti-stalking laws.
The strong language of the AETA — which in the Berkeley case raises freedom of speech issues, the judge warned — could be making prosecutors wary of using it. Lawyers for the defendants say that much of the activists' activity — chalking, chanting and leafleting — should be considered protected 'speech', and therefore be exempt from restriction. According to Michael Macleod-Ball, chief legislative counsel of the New York-based American Civil Liberties Union, "Prosecutors need to be careful about how they use this, because the language in the statute is a little squishy."
Researchers who have been the target of attacks don't want prosecutors to give up yet. Jentsch endured lengthy protests at his home after the burning of his car. He thinks that the AETA could deter protesters who are "actively seeking the boundary of protected speech" to harm researchers without getting arrested. But this won't happen until there are more AETA arrests. "I don't see that the AETA has really affected activists yet," says Jentsch. "It has got to be used to aggressively pursue people who have pushed the bounds of behaviour."

About this article
Cite this article
Marris, E. Animal rights 'terror' law challenged. Nature 466, 424 (2010). https://doi.org/10.1038/466424a
Published:

Issue Date:

DOI: https://doi.org/10.1038/466424a