Royal Society predicts 'game over' for British science.
British science funders have been ordered by the government to draw up detailed plans for coping with inevitable budget cuts later this year. While publicly lobbying to avoid major damage, the agencies are privately preparing for financial futures that range from merely gloomy to 'catastrophic'.
The true state of British science funding will not be revealed until after 20 October, when the government announces how it plans to cut roughly 25% from the budget of each of its departments.
But this week saw the seven research councils — which between them hand out £3 billion (US$4.6 billion) of government money each year in grants — make a second round of requested PowerPoint presentations to the Department for Business, Innovation and Skills (BIS), which determines their budgets. They looked at how they would tackle three scenarios: a budget freeze, or cuts of 10% and 20% over four years.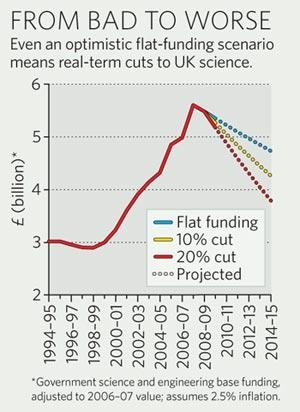 Adding to the pain, inflation would cut an extra 10% in real terms from the budgets over the four years (see graph). And the councils worry that a cut in public cash will lead to a loss of matched funding from private companies, or in money coming into research centres from contract research.
Britain's national academy of science, the Royal Society, told BIS in a report released on 16 July that a 20% cut would be "irreversibly catastrophic for the future of UK science and economic growth". Under the heading "Game over", it predicted that star researchers would leave Britain, that higher-education funding councils would be unlikely to maintain support to universities for PhD training, and that research councils would slash the number of PhD grants, "destroying an entire generation of home-grown scientists". Alternatively, a 10% cash cut would be "damaging", the society said, and a flat-cash settlement would be "painful but manageable".
Some research councils say that in a budget freeze they would trim cash across the board from existing strategies. "With flat cash you can just about squeeze everything over time," says David Bloomer, director of finance and operations at the Natural Environment Research Council (NERC).
More severe cuts would force the councils to make tough choices, favouring some areas at the expense of others. "Some research areas will lose out. There's not much I can say to soften the blow," the Medical Research Council's chief executive, Leszek Borysiewicz, told scientists funded by his agency in the 9 July issue of the MRC Network newsletter.
David Delpy, chief executive of the Engineering and Physical Sciences Research Council (EPSRC), says that in the case of severe cuts, his council would support work in which Britain has the potential to benefit economically. The EPSRC would use existing international reviews to decide what to cut and what to keep. But Delpy predicts that the council's contribution to seven previously agreed cross-council 'Grand Challenge' programmes (in such areas as nanotechnology, ageing and energy) would be a priority — a sentiment echoed by other research councils.
Making cuts will be particularly difficult for agencies whose funds are tied up in supporting infrastructure or international subscriptions. According to the Royal Society, the Biotechnology and Biological Sciences Research Council spends some 14% of its funding on these inflexible areas — the rest goes on grants for projects or individuals — but NERC spends 57% on facilities such as environment-monitoring aircraft and ocean-going research ships. These large units are hard to cut back. "You can't have 10% less of a ship," notes Bloomer.
Privately, the research councils are comparing notes — partly to ensure that they don't pull in different directions — and are presenting the different scenarios to universities. "My sense is that the EPSRC has been frank and open in discussing the potential problems, at least with their biggest partner universities," says Richard Jones, pro-vice-chancellor for research and innovation at the University of Sheffield, UK. But the research councils and learned societies will not talk publicly about specific areas or institutions that might face the axe, for fear of encouraging those cuts to take place.
The Royal Academy of Engineering, however, broke this mutually agreed silence on 8 July by publishing its submission to BIS, in which it argued that Britain was spending too much on particle physics, rather than on subjects with clearer economic benefits — such as those under its own purview. The physicists' learned society, the Institute of Physics, responded swiftly with its own letter to BIS reiterating the importance of particle physics, but it would not publicly release the document.
"At this stage, we should all be arguing for the size of the cake, not how it should be carved up," says the Royal Society's director of policy, James Wilsdon.

Related links
Related links
Related links in Nature Research
Related external links
About this article
Cite this article
Van Noorden, R. UK government warned over 'catastrophic' cuts. Nature 466, 420–421 (2010). https://doi.org/10.1038/466420b
Published:

Issue Date:

DOI: https://doi.org/10.1038/466420b