Simulations show that Saturn's nearby moons, after forming on the outskirts of the planet's main rings, get pushed clear of them. This model reproduces the moons' orbital locations and remarkably low densities.
Access options
Subscribe to Journal
Get full journal access for 1 year
$199.00
only $3.90 per issue
All prices are NET prices.
VAT will be added later in the checkout.
Tax calculation will be finalised during checkout.
Buy article
Get time limited or full article access on ReadCube.
$32.00
All prices are NET prices.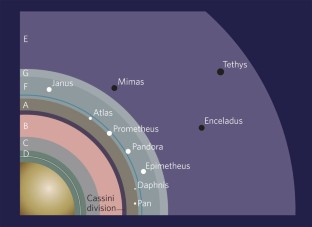 References
Cuzzi, J. N. et al. Science 327, 1470–1475 (2010).

Charnoz, S., Salmon, J. & Crida, A. Nature 465, 752–754 (2010).

Goldreich, P. & Tremaine, S. Annu. Rev. Astron. Astrophys. 20, 249–283 (1982).

Charnoz, S., Dones, L., Esposito, L. W., Estrada, P. R. & Hedman, M. M. in Saturn After Cassini-Huygens (eds Dougherty, M. K., Brown, R. H. & Esposito, L. W.) 537–575 (Springer, 2009).

Salo, H. Nature 359, 619–621 (1992).

Karjalainen, R. & Salo, H. Icarus 172, 328–348 (2004).

Tiscareno, M. et al. Astrophys. J. Lett. (in the press).

Porco, C. C., Thomas, P. C., Weiss, J. W. & Richardson, D. C. Science 318, 1602–1607 (2007).

Spitale, J. N. & Porco, C. C. Preprint available at http://arxiv.org/abs/0912.3489 (2009).
About this article
Cite this article
Burns, J. The birth of Saturn's baby moons. Nature 465, 701–702 (2010). https://doi.org/10.1038/465701b
Published:

Issue Date:

DOI: https://doi.org/10.1038/465701b