Pseudogenes are considered to be defunct relatives of known genes. But there is some surprising news: pseudogenes are functional and could have a role in the control of cancer1. Two experts discuss the significance of these findings for understanding the regulation of gene expression and cancer biology.
This is a preview of subscription content
Access options
Subscribe to Journal
Get full journal access for 1 year
$199.00
only $3.90 per issue
All prices are NET prices.
VAT will be added later in the checkout.
Tax calculation will be finalised during checkout.
Buy article
Get time limited or full article access on ReadCube.
$32.00
All prices are NET prices.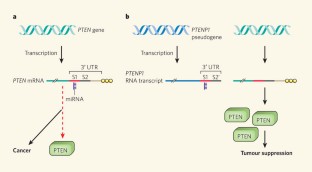 References
Poliseno, L. et al. Nature 465, 1033–1038 (2010).

Salmena, L., Carracedo, A. & Pandolfi, P. P. Cell 133, 403–414 (2008).

Alimonti, A. et al. Nature Genet. 42, 454–458 (2010).

Poliseno, L. et al. Sci. Signal. 3, ra29 (2010).

Bartel, D. P. Cell 136, 215–233 (2009).

Rigoutsos, I. Cancer Res. 69, 3245–3248 (2009).

Nilsen, T. W. Nature Struct. Mol. Biol. 15, 546–548 (2008).

Di Cristofano, A., Pesce, B., Cordon-Cardo, C. & Pandolfi, P. P. Nature Genet. 19, 348–355 (1998).

Trotman, L. C. et al. PLoS Biol. 1, e59 (2003).

Marsh, D. J. et al. Hum. Mol. Genet. 7, 507–515 (1998).
About this article
Cite this article
Rigoutsos, I., Furnari, F. Decoy for microRNAs. Nature 465, 1016–1017 (2010). https://doi.org/10.1038/4651016a
Published:

Issue Date:

DOI: https://doi.org/10.1038/4651016a