According to an innovative exercise in 'morphospace analysis', modern fish owe their stunning diversity in part to an ecological cleaning of the slate by the mass extinction at the end of the Cretaceous.
Your institute does not have access to this article
Access options
Subscribe to Journal
Get full journal access for 1 year
$199.00
only $3.90 per issue
All prices are NET prices.
VAT will be added later in the checkout.
Tax calculation will be finalised during checkout.
Buy article
Get time limited or full article access on ReadCube.
$32.00
All prices are NET prices.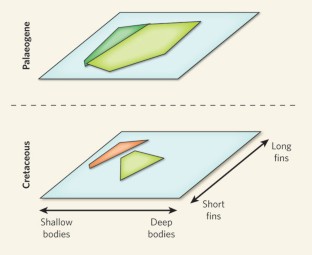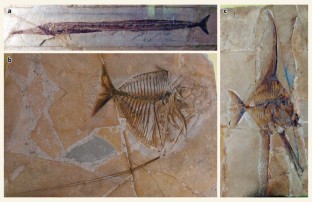 References
Friedman, M. Proc. R. Soc. Lond. B doi:10.1098/rspb.2009.2177 (2010).

Schluter, D. The Ecology of Adaptive Radiation (Oxford Univ. Press, 2000).

Erwin, D. H. Proc. Natl Acad. Sci. USA 98, 5399–5403 (2001).

Penny, D. & Phillips, M. J. Trends Ecol. Evol. 19, 516–522 (2004).

Patterson, C. & Smith, A. B. Nature 330, 248–251 (1987).

Cavin, L. in Geological and Biological Effects of Impact Events (eds Buffetaut, E. & Koeberl, C.) 141–158 (Springer, 2001).

Friedman, M. Proc. Natl Acad. Sci. USA 106, 5218–5223 (2009).

Bellwood, D. R. & Hoey, A. in Mesozoic Fishes 3: Systematics, Paleoenvironments and Biodiversity (eds Arratia, G. & Tintori, A.) 639–649 (Dr Friedrich Pfeil, 2004).

Nolf, D. Bull. Inst. R. Sci. Nat. Belg. Sci. Terr. 73, 155–173 (2003).

Azuma, Y. et al. BMC Evol. Biol. 8, 215 (2008).
About this article
Cite this article
Alfaro, M., Santini, F. A flourishing of fish forms. Nature 464, 840–842 (2010). https://doi.org/10.1038/464840a
Published:

Issue Date:

DOI: https://doi.org/10.1038/464840a