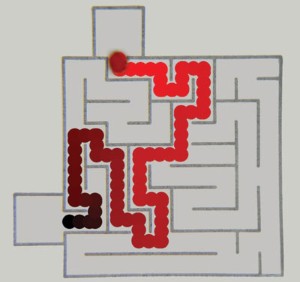 An acid-seeking chemical blob can propel itself through a maze, always choosing the shortest way out.
Bartosz Grzybowski and his team at Northwestern University in Evanston, Illinois, created this system by lacing a droplet of organic solvent with a surfactant, 2-hexyldecanoic acid, that diffuses to the liquid's surface. The surfactant reacts with base, and in a pH gradient this results in unequal surface tensions at the droplet's edge, which drive it acid-wards.
The authors diffused acid through a maze of silicone channels already filled with basic solution. They then set their droplet loose; it darted down the channel with the steepest pH gradient (pictured), which was also the shortest route to the acid-soaked exit.
About this article
Cite this article
Chemistry: Chase acid, solve maze. Nature 463, 272 (2010). https://doi.org/10.1038/463272c