Europe impedes introduction of REACH safety assessments.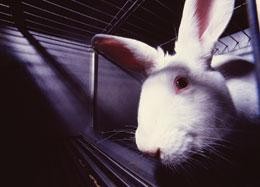 Europe's chemical regulator is threatening to stall safety studies that toxicologists say could prevent millions of animals being used in tests over the next eight years.
European Union (EU) legislation requires that chemicals be tested in two generations of animals to assess the effects on their reproductive systems. But proposed new tests would allow just one generation of animals to be used, with additional tests on a second generation required only if the first round raised concerns.
But the European Chemicals Agency (ECHA) in Helsinki, which implements the EU's REACH (Registration, Evaluation, Authorisation and Restriction of Chemicals) legislation and is responsible for issuing guidance on tests, says that there is not yet enough evidence to rely on one-generation testing.
Toxicologists who advocate the switch, however, say that their scientific case is "overwhelming". They argue that REACH will fail unless the new test is adopted, because the two-generation tests are too expensive, demand too many animals, and require laboratory space and manpower that the EU simply doesn't have.
"Everyone is longing for this change to happen. It's the only way to make the legislation feasible," says toxicologist Thomas Hartung, former head of the European Centre for the Validation of Alternative Methods in Ispra, Italy, and now at Johns Hopkins Bloomberg School of Public Health in Baltimore, Maryland. He estimates that using the extended one-generation study would reduce animal use in REACH by 40–60%. "Costs would be reduced in a similar range," he says.
"We can't perform all the two-generation studies that we are required to perform under REACH," adds Susanne Böhn, a toxicologist for BASF, a chemical company headquartered in Ludwigshafen, Germany.
REACH came into force in 2007, and is the world's most extensive attempt at improving the safe use of chemicals. All chemicals sold in the EU in quantities of more than one tonne per year must be registered, along with toxicity data, by 2018.
The ECHA estimates that about 30,000 substances will be logged, requiring 9 million animals to be used in tests costing €1.3 billion (US$1.9 billion). But a study by Hartung suggests that this is a gross underestimate, and that at least 68,000 chemicals will have to be registered, requiring the use of 54 million animals (T. Hartung and C. Rovida Nature 460, 1080–1081; 2009).
The Organisation for Economic Co-operation and Development (OECD) is drawing up guidelines for its member states for a one-generation study. These would include a more extensive battery of tests that are not routinely performed in the existing two-generation studies, including histopathology and neurobehavioural tests. OECD member states, except for Sweden, agreed on a draft of the guidelines at a meeting on 21–23 October 2009 in Paris.
At the meeting, Elizabeth Méndez, a toxicologist at the US Environmental Protection Agency (EPA), presented an analysis of 350 substances — mostly pesticides — showing that only one would not have been picked up as dangerous had a second-generation study not been performed. "There is a great deal of redundancy in the second-generation tests," she says. The EPA has already begun trialling the extended one-generation tests on a case-by-case basis. Another study (G. Janer et al. Reprod. Toxicol. 24, 97–102; 2007) found that in 176 multi-generation studies on 148 substances, there were only three instances in which reproductive toxicity was not identified until the second-generation test.
But it is up to the ECHA to recommend that the new tests be used in REACH, and the agency, which attended the October meeting, is not convinced by such studies. At the meeting, agency representatives expressed concern that some fertility effects could be missed in a one-generation study, and criticized the EPA analysis for not considering whether reproductive effects seen in the second-generation tests were more severe than in the first. In a statement to Nature, the ECHA said: "The two-generation study is the only study that covers effects on reproduction after exposure during all life stages." The agency added that the scientific evaluation of the OECD's guidelines is "on-going", and that it "considers it premature to evaluate the impacts on the number of test animals and costs of the test designs under development". Hartung points out that the OECD, which is expected to approve a final version of the guidelines for one-generation tests in March, could use its political clout to lobby for European regulators to approve the tests.

About this article
Cite this article
Gilbert, N. Streamlined chemical tests rebuffed. Nature 463, 142–143 (2010). https://doi.org/10.1038/463142b
Published:

Issue Date:

DOI: https://doi.org/10.1038/463142b
Further reading
Stefan F. Martin
Philipp R. Esser
Federica Sallusto

Cellular and Molecular Life Sciences (2010)