Although sphingolipids are vital cellular components, the path to their production is paved with toxic intermediates. Orm proteins allow cells to form these lipids without killing themselves in the process.
Access options
Subscribe to Journal
Get full journal access for 1 year
$199.00
only $3.90 per issue
All prices are NET prices.
VAT will be added later in the checkout.
Tax calculation will be finalised during checkout.
Buy article
Get time limited or full article access on ReadCube.
$32.00
All prices are NET prices.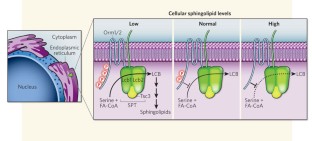 References
Hanada, K., Nishijima, M. & Akamatsu, Y. J. Biol. Chem. 265, 22137–22142 (1990).

Zhang, X., Skrzypek, M. S., Lester, R. L. & Dickson, R. C. Curr. Genet. 40, 221–233 (2001).

Hannun, Y. A. & Obeid, L. M. J. Biol. Chem. 277, 25847–25850 (2002).

Breslow, D. K. et al. Nature 463, 1048–1053 (2010).

Gable, K., Slife, H., Bacikova, D., Monaghan, E. & Dunn, T. M. J. Biol. Chem. 275, 7597–7603 (2000).

Schuldiner, M. et al. Cell 123, 507–519 (2005).

Vacaru, A. M. et al. J. Cell Biol. 185, 1013–1027 (2009).

Han, S., Lone, M. A., Schneiter, R. & Chang, A. Proc. Natl Acad. Sci. USA (in the press).

Cantero-Recasens, G., Fandos, C., Rubio-Moscardo, F., Valverde, M. A. & Vicente, R. Hum. Mol. Genet. 19, 111–121 (2010).

Moffatt, M. F. et al. Nature 448, 470–473 (2007).
About this article
Cite this article
Tafesse, F., Holthuis, J. A brake on lipid synthesis. Nature 463, 1028–1029 (2010). https://doi.org/10.1038/4631028a
Published:

Issue Date:

DOI: https://doi.org/10.1038/4631028a
This article is cited by
Pierre-Maxence Vaysse
Heike I. Grabsch
Tiffany Porta Siegel

Laboratory Investigation (2021)