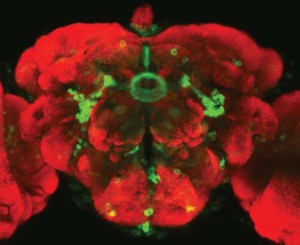 Fruitflies recruit distinct neural circuits when undergoing different forms of arousal — either waking from sleep, or being disturbed by puffs of air.
David Anderson at the California Institute of Technology in Pasadena and his colleagues found that flies with loss-of-function mutations in the dopamine receptor were more easily startled by air puffs than were flies without the mutation, but seemed less easily roused from sleep, as they slept longer.
When the researchers restored normal functionality to the dopamine receptor in a brain area called the central complex (pictured, dopamine receptors labelled green), the puff-induced arousal dropped to normal levels but sleep arousal remained unchanged.
About this article
Cite this article
Neuroscience: Rude awakening. Nature 462, 547 (2009). https://doi.org/10.1038/462547d
Comments
By submitting a comment you agree to abide by our Terms and Community Guidelines. If you find something abusive or that does not comply with our terms or guidelines please flag it as inappropriate.