Killer T cells were thought to patrol the body unhindered, freely gaining access to sites of infection. But it seems that, at least in some body tissues, helper T cells must pave the way for killer T-cell entry.
Access options
Subscribe to Journal
Get full journal access for 1 year
$199.00
only $3.90 per issue
All prices are NET prices.
VAT will be added later in the checkout.
Tax calculation will be finalised during checkout.
Buy article
Get time limited or full article access on ReadCube.
$32.00
All prices are NET prices.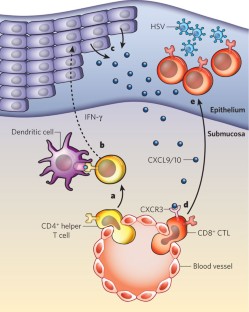 Notes
*This article and the paper under discussion3 were published online on 8 November 2009.
References
Marshall, D. R. et al. Proc. Natl Acad. Sci. USA 98, 6313–6318 (2001).

Masopust, D. et al. J. Immunol. 172, 4875–4882 (2004).

Nakanishi, Y., Lu, B., Gerard, C. & Iwasaki, A. Nature 462, 510–513 (2009).

Jennings, S. R., Bonneau, R. H., Smith, P. M., Wolcott, R. M. & Chervenak, R. Cell. Immunol. 133, 234–252 (1991).

Lund, J. M., Hsing, L., Pham, T. T. & Rudensky, A. Y. Science 320, 1220–1224 (2008).

Zhao, X. et al. J. Exp. Med. 197, 153–162 (2003).

Wakim, L. M., Waithman, J., van Rooijen, N., Heath, W. R. & Carbone, F. R. Science 319, 198–202 (2008).

McLachlan, J. B., Catron, D. M., Moon, J. J. & Jenkins, M. K. Immunity 30, 277–288 (2009).

Cunningham, A. L. et al. J. Clin. Invest. 75, 226–233 (1985).

Marzo, A. L. et al. J. Immunol. 165, 6047–6055 (2000).

Butcher, E. C. & Picker, L. J. Science 272, 60–66 (1996)
About this article
Cite this article
Gebhardt, T., Carbone, F. A helpers' guide to infection. Nature 462, 418–419 (2009). https://doi.org/10.1038/462418a
Published:

Issue Date:

DOI: https://doi.org/10.1038/462418a