Stars that host planets experience more mixing of their internal elements than do stars that lack such companions. This correlation may serve as a useful diagnostic in the search for planets around stars other than the Sun.
Access options
Subscribe to Journal
Get full journal access for 1 year
$199.00
only $3.90 per issue
All prices are NET prices.
VAT will be added later in the checkout.
Tax calculation will be finalised during checkout.
Buy article
Get time limited or full article access on ReadCube.
$32.00
All prices are NET prices.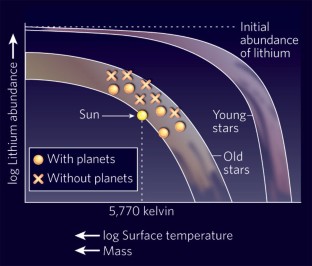 References
Israelian, G. et al. Nature 462, 189–191 (2009).

Basu, S. & Antia, H. M. Mon. Not. R. Astron. Soc. 287, 189–198 (1997).

Lodders, K. Astrophys. J. 591, 1220–1247 (2003).

Sestito, P. & Randich, S. Astron. Astrophys. 442, 615–627 (2005).

Skumanich, A. Astrophys. J. 171, 565–567 (1972).

Kawaler, S. D. Astrophys. J. 333, 236–247 (1988).

Shu, F. et al. Astrophys. J. 429, 781–796 (1994).
About this article
Cite this article
Pinsonneault, M. A fossil record for exoplanets. Nature 462, 168–169 (2009). https://doi.org/10.1038/462168a
Published:

Issue Date:

DOI: https://doi.org/10.1038/462168a