Male and female fruitflies use pheromones to flaunt their species identity and gender as they court amid other fruitfly species. The grammar of this chemical language is surprisingly sophisticated.
This is a preview of subscription content
Access options
Subscribe to Journal
Get full journal access for 1 year
$199.00
only $3.90 per issue
All prices are NET prices.
VAT will be added later in the checkout.
Tax calculation will be finalised during checkout.
Buy article
Get time limited or full article access on ReadCube.
$32.00
All prices are NET prices.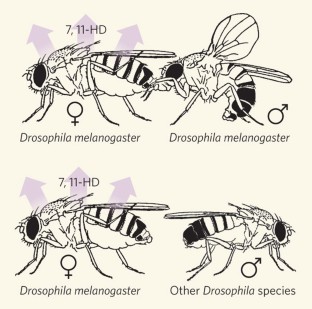 References
Billeter, J.-C., Atallah, J., Krupp, J. J., Millar, J. G. & Levine, J. D. Nature 461, 987–991 (2009).

Wyatt, T. D. Pheromones and Animal Behaviour: Communication by Smell and Taste (Cambridge Univ. Press, 2003).

Dickson, B. J. Science 322, 904–909 (2008).

Jallon, J.-M. Behav. Genet. 14, 441–478 (1984).

Shirangi, T. R., Dufour, H. D., Williams, T. M. & Carroll, S. B. PLoS Biol. 7, e1000168 (2009).

Yew, J. Y. et al. Curr. Biol. 19, 1245–1254 (2009).

Ejima, A. et al. Curr. Biol. 17, 599–605 (2007).

Kurtovic, A., Widmer, A. & Dickson, B. J. Nature 446, 542–546 (2007).

Ha, T. S. & Smith, D. P. J. Neurosci. 26, 8727–8733 (2006).

Datta, S. R. et al. Nature 452, 473–477 (2008).
About this article
Cite this article
Gompel, N., Prud'homme, B. Chemical love. Nature 461, 887–888 (2009). https://doi.org/10.1038/461887a
Published:

Issue Date:

DOI: https://doi.org/10.1038/461887a