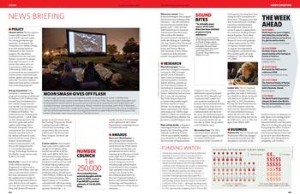 Policy|Events|Awards|Research|Business|Funding watch|The week ahead|Sound bites|Number crunch
Climate advice: Britain requires a major shift in pace if it is to meet its self-imposed targets for cutting greenhouse-gas emissions, according to the Committee on Climate Change. In its first annual report to Parliament on the country's progress, the committee, established last year, says that Britain's current 0.5% annual drop must increase to 2–3% a year if the nation is to cut its emissions to 80% below 1990 levels by 2050. It also recommends more investment in nuclear power, wind farms and carbon capture and storage, and notes that "recession-induced reductions must not be confused with underlying progress".
Energy investment: The European Commission has proposed investing an additional €50 billion (US$74 billion) into research and development for low-carbon energy over the next decade, increasing annual investment from the current €3 billion to €8 billion. The proposal lays out funding goals in seven sectors — wind, solar, nuclear, bioenergy, fuel cells, electricity grids and carbon capture and storage. Janez Potočnik, European Union commissioner for science and research, says that most of the money will need to come from the private sector. Policy-makers, researchers and business representatives will discuss the proposal at the 21–22 October European Energy Technology Summit in Stockholm. See go.nature.com/Shr8W2 for more.
Grant cuts: A new ¥270-billion (US$3-billion) funding programme in Japan may be slashed to ¥100 billion, after the science and education ministry last week announced cuts to the supplementary budget of which the programme forms a part. Before it lost a 30 August election, the Liberal Democratic Party had chosen 30 research groups to receive money from the Funding Program for World-Leading Innovative R&D on Science and Technology. That programme's fate now awaits a decision by the Democratic Party of Japan. For more, see page 854.
Carbon capture: One hundred large-scale carbon capture and storage (CCS) plants will be needed around the world by 2020, and 3,400 by 2050, the International Energy Agency said in a 'CCS roadmap'. Most of the plants would need to be built in industrializing nations such as China and India, and from 2010 to 2020, governments in developed nations should invest US$3.5 billion–4 billion each year for CCS demonstrations. The report's release on 13 October coincided with calls from energy ministers — including US energy secretary Steven Chu — to rapidly advance CCS technology as they gathered at the Carbon Sequestration Leadership Forum in London this week.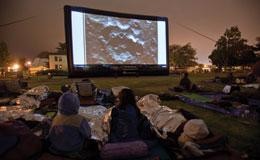 For many eager astronomers (pictured watching outside the Ames Research Center in Moffett Field, California) NASA's frontal assault on the Moon ended in a fizzle on Friday. The Lunar Crater Observation and Sensing Satellite crashed near the lunar south pole as planned, but an expected plume of bright debris was nowhere to be seen, even by powerful telescopes. Mission scientists did, however, spot a thermal flash and a crater, perhaps 20 metres wide, created by the impact. They were most excited about a tiny bump in brightness seen by a mission spectrometer, which could signal the presence of water that some think exists as ice in the bottom of the target crater. See go.nature.com/ZbzDDe for more.
Stars over Washington: A select group of astronomers and schoolchildren flooded the south lawn of the White House on 7 October for the first-ever presidential star party. Before stepping up to telescopes to look at the night sky, US President Barack Obama introduced several young astronomers, including high-school student Lucas Bolyard of West Virginia, who explained to him what a pulsar was. Earlier in the day, Obama had handed out this year's National Medals of Science and National Medals of Technology and Innovation to 14 researchers in a White House ceremony.
Ribosome reward: Three structural biologists who mapped the structure and workings of the ribosome — the cell's machinery for churning out proteins from genetic code — have won the 2009 Nobel Prize in Chemistry. Venkatraman Ramakrishnan, who works at the Medical Research Council's Laboratory of Molecular Biology in Cambridge, UK; Ada Yonath of the Weizmann Institute of Science in Rehovot, Israel, and Thomas Steitz at Yale University in New Haven, Connecticut, share the prize equally. See page 860 for more.
Physicist charged: French police have charged a researcher working at CERN, Europe's particle-physics laboratory near Geneva in Switzerland, with having links to terrorists. Adlène Hicheur, a postdoc at the Swiss Federal Institute of Technology in Lausanne, was arrested on 8 October in Vienne, France. Authorities have accused the 32-year-old of supplying the North African branch of al-Qaeda with possible targets for future attacks in France. Hicheur was working on the beauty experiment, one of four main projects at CERN's Large Hadron Collider, the world's most powerful particle accelerator. See go.nature.com/H5f7de for more.
Peer-review probe: A dispute is widening between the editorial board of the Proceedings of the National Academy of Sciences (PNAS) and academy member Lynn Margulis, a cell biologist at the University of Massachusetts, Amherst. Under a PNAS submission route to be phased out by July 2010, Margulis had "communicated" a paper by a non-academy member to the journal, which it published online in August. In the wake of rows over Margulis's alleged selective communication of reviews for the work, two additional papers, one co-authored by Margulis and one communicated by her, are now also in limbo. See go.nature.com/7wTuId for more.
Misconduct ban: The DFG, Germany's major national research agency, has disciplined two senior biodiversity researchers at the University of Göttingen by banning them from sitting on DFG committees for three years. The agency says that Teja Tscharntke and Christoph Leuschner misrepresented the publication status of 54 research papers in applications for continued funding of major research grants. Three other scientists in the Collaborative Research Centre and graduate college supported by the DFG were given a formal rebuke. In August, an independent investigation committee found the scientists guilty of "gross negligence" (see Nature 460, 791; 2009).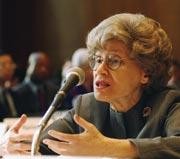 Leader lost: The US National Institutes of Health (NIH) said goodbye last week to institution icon Ruth Kirschstein (pictured), who died on 6 October at the age of 82. In 1974, Kirschstein became the first female director of an NIH institute when she took over the National Institute of General Medical Sciences, which she led until 1993. She also served as acting director for the NIH twice, once in 1993 and again from 2000 to 2002.
Patents tiff: The US Patents and Trademark Office has changed its mind about proposed rules intended to cut down on the number of times an applicant can add claims to an existing patent. In 2007, the drug company GlaxoSmithKline sued the patent office to try to keep the proposals from going into effect. A district court ruled in the firm's favour, and the proposals have been tied up in court since then; however, the patent office dumped them completely on 8 October.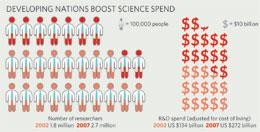 Developing countries have more than doubled their spending on science over a 5-year period, from US$134 billion in 2002 to $272 billion in 2007, a new report shows. The figures are adjusted to take into account the relative cost of living in different countries. Over this period, the number of researchers jumped by 50% in developing nations, but by just 8.6% in developed countries, according to data released by the UNESCO Institute for Statistics on 6 October. Developing nations also upped their average expenditure on research and development as a percentage of gross domestic product, from 0.8% in 2002 to 1.0% in 2007 — although spending varied greatly between countries. China saw a rise from 1.1% to 1.5%, whereas India nudged up from 0.7% to 0.8%.
15 October NASA begins six years of flights over Antarctica, in what will be the largest airborne survey of sea ice, glaciers and ice sheets.
18–21 October Portland, Oregon, hosts the annual meeting of the Geological Society of America.
19–22 October Paris hosts the AIDS vaccine conference 2009.
20–24 October The American Society of Human Genetics annual meeting will be held in Honolulu, Hawaii.
21 October The World Health Organization releases its State of the World's Vaccines and Immunization report.
"In virtually every aspect of the talks there has been minimal progress of any substance."
Saleemul Huq, a lead scientist on the Intergovernmental Panel on Climate Change, reports back from climate negotiations in Bangkok that were meant to set the stage for the crucial Copenhagen summit in December. See go.nature.com/NEBbNs for more.
The probability that asteroid Apophis will hit Earth in 2036, revised from NASA's previous estimate of 1 in 45,000. Phew.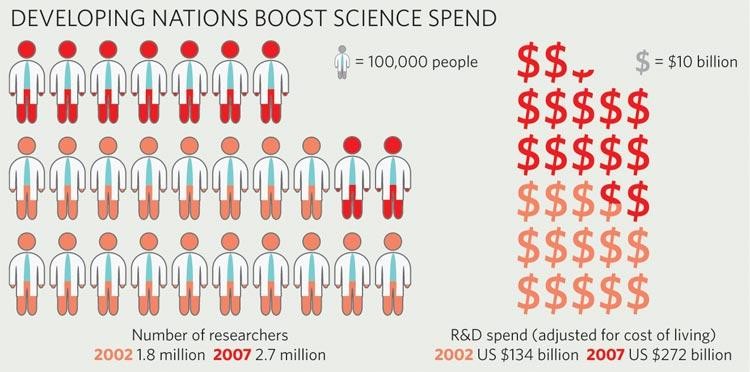 About this article
Cite this article
News briefing: 15 October 2009. Nature 461, 852–853 (2009). https://doi.org/10.1038/461852a
Published:

Issue Date:

DOI: https://doi.org/10.1038/461852a
This article is cited by
Kristopher T. Kang
Niranjan Kissoon
Ashley Roberts

Current Treatment Options in Pediatrics (2015)