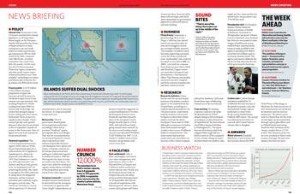 Policy|Facilities|Events|Business|Research|Awards|The week ahead|Sound bites|Number crunch
Climate law: Democrats in the US Senate unveiled their climate legislation on 30 September. Based largely on the Waxman–Markey bill passed by the House of Representatives in June, it proposes a cap-and-trade system to reduce greenhouse-gas emissions by 20% by 2020 and 83% by 2050, compared with 2005 levels. An initial committee vote could come later this month. On the same day, the US Environmental Protection Agency proposed a rule that would require major industrial facilities to use "best available" technologies to reduce greenhouse-gas emissions. See go.nature.com/RWjAdj for more.
Frozen grants: A ¥270-billion (US$3-billion) funding programme in Japan has been put on hold because of a wholesale budget freeze by the country's new government. The Funding Program for World-Leading Innovative R&D on Science and Technology was created this spring by Japan's former ruling party, the Liberal Democratic Party, as part of a supplementary budget. Thirty research groups were quickly chosen to share the money ahead of the 16 September transfer of power to the Democratic Party of Japan, but none is yet assured of the promised funds.
Chemical regulation: The US Environmental Protection Agency (EPA) laid out White House-backed principles for a radical reform of US legislation regulating toxic chemicals, at present controlled by the 1976 Toxic Substances Control Act. EPA administrator Lisa Jackson said the act had proved to be "an inadequate tool" for protecting the public. She wants to strengthen the EPA's authority to clamp down on dangerous chemicals, and for chemical manufacturers routinely to give the agency toxicity data. The American Chemistry Council, which represents US chemical manufacturers, says it welcomes the reform. A congressional bill is expected soon.
Biosecurity: The US government should grade microorganisms and toxins according to their risk as potential "biothreat" agents, and regulate them accordingly. That was the recommendation of a National Research Council report released last week, entitled Responsible Research with Biological Select Agents and Toxins. Currently, research on 82 human, plant and animal pathogens (called select agents) is monitored under a 1996 law that requires the same security procedures for all of them. The report also called for funding of regular, independent evaluation of the programme governing research into select agents.
European research: Control of Europe's research funds should be devolved from the European Commission to agencies with "arms-length" independence, an advisory board has suggested. In a report published on 6 October, the European Research Area Board also said that research's share of the European Union's budget should triple to 12% by 2030, with half of those funds going towards basic research. In the most recent funding round, research was allocated €50 billion (US$74 billion) for 2007–13, of which €7.5 billion went to basic research. See go.nature.com/yVLwT3 for more.
Dam settlement: After a bitter and lengthy controversy over water management, four hydroelectric dams on the Klamath River in Oregon and California will be removed to restore salmon runs. PacifiCorp, the Portland-based utility in Oregon that owns the dams, announced the draft agreement on 30 September after almost a decade of negotiations with federal agencies, farmers, states, conservation groups and Native American tribes. Removal of the dams will not begin until 2020, and is dependent on government approval as well as full federal and state funding.
Islands suffer dual shocks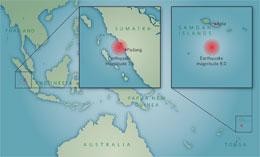 Major earthquakes in the Pacific and Indian oceans struck Samoa and Indonesia last week. An earthquake measured by the US Geological Survey as a magnitude 8.0 triggered a tsunami off Tonga and Samoa that killed at least 190 people and left thousands homeless. The death toll for the magnitude-7.6 earthquake that hit just hours later off the Indonesian island of Sumatra may reach thousands. Experts said that the two earthquakes were not related to each other. See go.nature.com/qkxBhD for more.
Firing frenzy: Sequenom, a biotechnology firm in San Diego, California, has cleared out its top executives after an internal investigation found lax oversight of faulty research. The company revealed in April that data supporting a prenatal screen for Down's syndrome were "mishandled" and could not be relied on (see Nature 459, 23; 2009). Last week the company fired chief executive Harry Stylli and Elizabeth Dragon, senior vice-president of research and development. Chief financial officer Paul Hawran and another unnamed executive resigned, and three research scientists also had their contracts ended.
In September, French company Arkema became the latest carbon-nanotube manufacturer this year to announce plans for a drastic scaling up of production. Despite the materials' present reliance on the mixed fortunes of the automobile industry, the market for carbon nanotubes as raw materials looks set to grow rapidly. Revenues could reach US$500 million by 2015 (see chart), predicts Jurron Bradley of analysts Lux Research.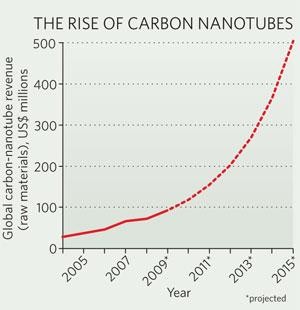 "In 2009 we have seen a lot of players announce major expansions," Bradley says. Market leader CNano, based in Santa Clara, California, announced in June that its Beijing facility is now producing 500 tonnes of multiwalled nanotubes annually; Arkema's plant in Mont, France, should be turning out 400 tonnes per year by 2011. If companies such as Germany's Bayer MaterialScience, headquartered in Leverkusen, and Tokyo-based Showa Denko follow through with similar plans, global nanotube production will have doubled by 2011 from around 800 tonnes per year at present.
Many of these raw nanotubes are multiwalled, and are used to make light, strong, composite materials. But a host of smaller companies — such as Nanocyl, based in Sambreville, Belgium — process them into intermediate products for antistatic coatings, for example, sensors for gas detection and electrode material for batteries — and, on the horizon, for touch-screen displays.
Research statistics: China has become the second-largest producer of academic research papers in the world behind the United States, according to a study produced annually for the UK government. Leeds-based analysts Evidence Ltd revised its figures to show that China's output overtook the major European Union states in 2006, although on measures of citation share and research strength (citation share across 10 different fields) it remained lower. The achievement had not been noted until now, and follows an increase in the volume of papers indexed by databases. India and Brazil show signs of following China's rise in the next decade.
Crop warning: Developing countries could see crop yields fall dramatically by 2050 if climate change is left unchecked, according to a study released on 30 September by the International Food Policy Research Institute in Washington DC. The report forecasts that wheat yields from irrigated fields might fall by a third or more by 2050, compared to a no-climate-change scenario, and that farmers in southern Asia might see their wheat production almost halve. See go.nature.com/VYzOWl for more.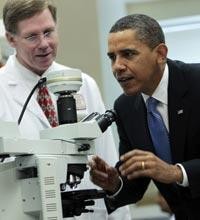 Presidential visit: US President Barack Obama visited the National Institutes of Health in Bethesda, Maryland, on 30 September (pictured). Obama toured a National Cancer Institute lab, where he was treated to video images of healthy and cancer-riddled brains, and praised the research made possible by the agency's spending of $5 billion out of the $10.4 billion it got in economic stimulus funds. The agency had raced to disburse the money by that same day, the end of the government's fiscal year.
Carbon cuts: Carbon dioxide emissions could fall by 3% worldwide this year because of the global economic crisis, the International Energy Agency predicted in a teaser from its upcoming World Energy Outlook 2009 report. The excerpt was released on 6 October to coincide with United Nations climate talks in Bangkok.
Nobel winners: Elizabeth Blackburn, Carol Greider and Jack Szostak shared the 2009 Nobel Prize in Physiology or Medicine, for their discoveries of how chromosomes are protected by telomeres and the enzyme telomerase. The physics prize went to Charles Kao, for his work on how light can be transmitted through optical glass fibres; and to Willard Boyle and George Smith for their invention of the charge-coupled device (CCD) sensor. The chemistry prize was yet to be awarded as Nature went to press. See page 706 and www.nature.com/news for more.
9 October NASA's Lunar Crater Remote Observation and Sensing Satellite will crash into a crater near the Moon's south pole, in the hope of disturbing and detecting ice.
15–16 October 'The ambitions of Europe in space' — European policy-makers, financiers, space scientists and industrial representatives converge on Brussels to discuss the region's space programme.
15–25 October Canada's Perimeter Institute for Theoretical Physics (see Nature 461, 462–465; 2009) hosts — and webstreams — the 'Quantum to cosmos' festival in Waterloo, Ontario.
"That is one of the things that wakes me up in the middle of the night."
Francis Collins, the newly minted director of the US National Institutes of Health, tells Nature how he feels about trying to ensure that the agency won't suffer financially when its stimulus money is spent. See go.nature.com/h15ch6 for the full interview.
The potential rise in India's nuclear capacity, from 3.8 gigawatts today to 470 gigawatts by 2050, in expansion plans announced by the country's prime minister, Manmohan Singh.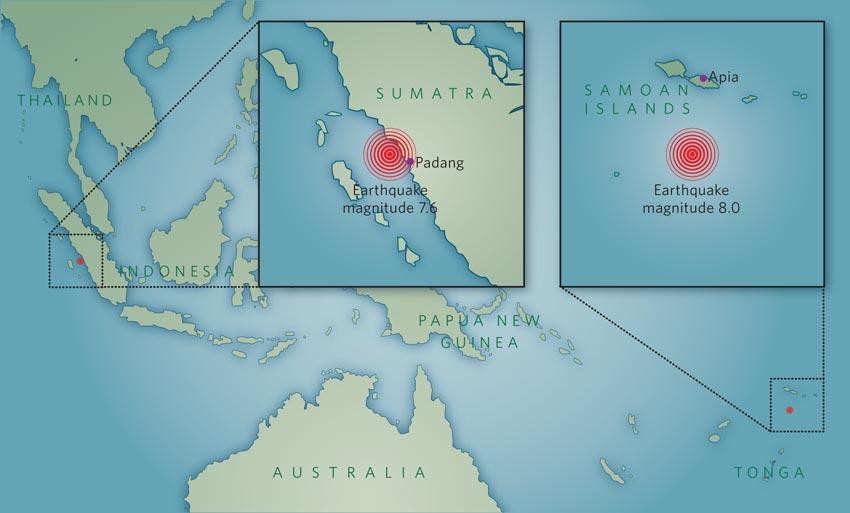 About this article
Cite this article
News briefing: 8 October 2009. Nature 461, 702–703 (2009). https://doi.org/10.1038/461702a
Published:

Issue Date:

DOI: https://doi.org/10.1038/461702a