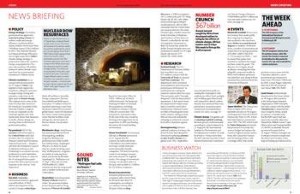 Policy|Business|Research|Events|The week ahead|Sound bites|Number crunch
Energy strategy: The Indian government has approved a national trading scheme for carbon credits and energy-efficiency certificates that it claims could be worth more than 750 billion rupees (US$15 billion) by 2015. The National Mission on Enhanced Energy Efficiency, one of eight proposals in India 's climate-change strategy, is projected to reduce the country's energy consumption by 5%; a year, and cut about 100 million tonnes of carbon dioxide every year from its current annual emissions of 3 billion tonnes.
Climate resolution: In an unexpected announcement on 27 August, China 's top legislative body approved a resolution calling for new laws to target energy saving and emissions reductions in the fight against climate change . The surprise move came at the close of a four-day session of the Standing Committee of the National People's Congress. It was not originally on the meeting's agenda and, state media said, shows that measures to tackle climate change are moving closer to the heart of government policy.
Flu pandemic: H1N1 flu vaccines will not be ready in the United States until mid-October, the US Centers for Disease Control and Prevention reiterated last week — despite a call from the President's Council of Advisors on Science and Technology to accelerate vaccine production to mid-September. But Harold Varmus, co-chair of the 21-strong advisory panel, praised the federal government's response to the virus as "truly impressive".
Gas deal: Australia 's environment ministry approved a Aus$50-billion (US$42-billion) development of the country's Gorgon natural gas fields off northwest Australia. Energy companies Chevron, ExxonMobil and Shell expect to produce 15 million tonnes of liquefied natural gas a year from the project (about 8% of current global trade), much of it destined for China. Conservation groups worry that the facilities could damage the environment of Barrow Island, a local nature reserve.
Blockbuster drug: AstraZeneca has announced that its blood-thinning drug candidate ticagrelor (Brilinta) out-performed one of the world's best-selling drugs, clopidogrel (Plavix), in a head-to-head trial. In a study involving more than 18,000 patients, ticagrelor was better at reducing heart attack and stroke deaths than clopidogrel (L. Wallentin et al. N. Engl. J. Med. doi:10.1056/NEJMoa0904327; 2009). Analysts say that the drug would enter a market worth around US$9 billion.
Acquisition: Irish drug maker Warner Chilcott , based in Ardee, has announced plans to buy the prescription-drug business of Procter & Gamble , based in Cincinnati, Ohio, for US$3.1 billion, all of which will be borrowed. Six banks are fronting $4 billion to bankroll the acquisition, including $1 billion to refinance Warner Chilcott's current debt. The transaction, expected to close by the end of the year, would be the largest leveraged loan for an acquisition in 2009, portending the return of a looser lending environment.
Green investment: Government officials in Norway announced on 31 August that the country has redirected about US$4 billion of its $400-billion sovereign-wealth fund into environmentally friendly companies. The fund invests the country's oil and gas revenues and owns around 1% of global stocks. The change in investment strategy was decided earlier in the year, and includes $1.2 billion for 232 Indian companies.
Research productivity: European pharmaceutical companies offer a better bang for the buck than their US counterparts, according to a re-analysis of more than 20 years of data on drug discovery . A 2006 investigation (H. G. Grabowski and Y. R. Wang Health Aff. 25, 452–460; 2006) of all novel drugs developed worldwide from 1982 to 2003 concluded that the United States was most productive. But when Donald Light, a health researcher at the University of Medicine and Dentistry of New Jersey in Newark, controlled for the size of companies' investment in R&D, he found that, dollar for dollar, Europe brought more new treatments to market (D. W. Light Health Aff. doi:10.1377/hlthaff.28.5.w969; 2009).
Chemical reagent company Sigma-Aldrich is to spin off a business that will create genetically modified (GM) rats. Sigma Advanced Genetic Engineering Labs, based in St Louis, Missouri, should start taking orders by October, according to Sigma representatives. Early releases will include knockouts for the genes APOE1, implicated in atherosclerosis and Alzheimer's, and DISC1, associated with schizophrenia.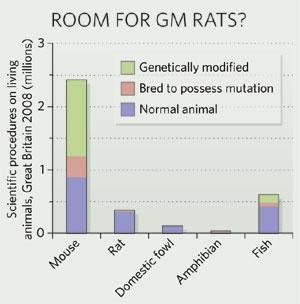 The market for GM animals is expected to grow by 12% a year over the next 3 years, says Eric Ostertag of Transposagen Biopharmaceuticals, based in Lexington, Kentucky, one of the world's only suppliers of GM rats. But it is dominated by knockout mice; in Britain last year, they outnumbered GM rats by 1.2 million to 6,000 (see chart; figures exclude Northern Ireland).
Rats are seen as superior to mice as models for several human diseases, but are harder to manipulate genetically using embryonic stem-cell methods. Sigma-Aldrich uses zinc finger nucleases — a technology licensed from California-based Sangamo Biosciences — to delete specific genes directly in the rat embryo (see A. M. Geurts et al. Science 325, 433; 2009). The firm will launch its first catalogue of animals in October at the Society for Neuroscience meeting in Chicago, Illinois.
Click here for a longer version of this story.
Contract break: The US Department of Veterans Affairs has cancelled a five-year, $75-million contract with the University of Texas to research Gulf War syndrome . The department cited "persistent noncompliance and numerous performance deficiencies" as justification for ending the research contract after two years. The university said it "strongly disagreed" with the department's assessment. A July report from the department's inspectorate had accused the university's Southwestern Medical Center at Dallas of breaking the terms of the contract, failing to send bills on time and unilaterally changing an informed consent form after it had been agreed.
Geoengineering: Britain's national academy of science, the Royal Society, has released its first report analysing schemes to alter Earth's climate on a global scale. The 1 September report looked favourably on seeding the stratosphere with sulphates to reflect back sunlight, and on filling agricultural land with minerals to absorb carbon dioxide, but cautioned that even preliminary research projects would need international pre-review. For more, see page 19.
Climate change: The global cost of adapting to global warming has been grossly underestimated, according to a report released on 27 August by the International Institute for Environment and Development in London. It could be at least 2–3 times more than the 2007 estimate from the United Nations Framework Convention on Climate Change of between $49 billion and $171 billion per year, the study's authors say. For more, see page 24.
Doctorate scandal: Prosecutors in Germany have made public their ongoing investigation into academics who may have taken bribes to award doctoral degrees to students. Professors from a number of universities are suspected of accepting payments of €2,000–5,000 (US$2,870–7,175) to supervise PhDs — and to ensure that passes were awarded to students that might not have made the grade. The director of a Cologne-based academic consulting firm that allegedly connected would-be PhDs with bribable professors was jailed last year, along with an unnamed law professor from the University of Hanover.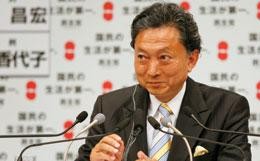 Japan election: The Democratic Party of Japan (DPJ) won a landslide election on 30 August, wresting power from the Liberal Democratic Party (LDP), which had ruled almost continuously since 1955. The DPJ, which is led by Yukio Hatoyama (pictured), has promised to increase the science budget and replace the country's highest science-policy body, the Council for Science and Technology Policy, with a 'strategy office' that would promote science more actively. It has also called for a cut in greenhouse-gas emissions to more than 25% below 1990 levels by 2020, a much bigger reduction than the LDP's 8% proposal (see Nature 460, 938; 2009).
Lunar losses: India formally abandoned its first lunar orbiter on 30 August, after scientists at the Indian Space Research Organisation (ISRO) abruptly lost radio contact with the probe. Chandrayaan-1 , launched last year to map the Moon, ended its mission 14 months early, but the ISRO said it had met most of its scientific objectives. Meanwhile, NASA 's Lunar Crater Observation and Sensing Satellite (LCROSS) accidentally burned up most of its spare fuel on 22 August. Mission managers say it remains on track to smash into the Moon on 9 October, in the hope of kicking up evidence of ice.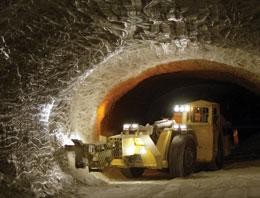 Nuclear row resurfaces Ahead of national elections on 27 September, a dispute flared up last week on how Germany will dispose of its nuclear waste. Documents published by a local anti-nuclear group show that in 1983 Helmut Kohl's government altered a scientific report expressing concern over the Gorleben salt dome (pictured) — chosen in the 1970s to become the national long-term waste-storage facility. A moratorium on exploration of the site is due to expire next year. Chancellor Angela Merkel wants to retain Gorleben; but opposition party — and anti-nuclear — environment minister Sigmar Gabriel said it was "dead" and urged research into alternative sites.
6–10 September The 16th Congress of the International Society of Developmental Biologists meets in Edinburgh, UK
8 September The US Congress returns from its summer recess. Later this month, the Senate is expected to introduce for discussion its version of a cap-and-trade bill for carbon emissions.
Sound bites "Hydrogen fuel cells are losers." Burton Richter, Stanford University, California Speaking on 26 August at IBM's Almaden Institute the Nobel laureate said that today's expensive and short-lived fuel cells must to go back to the R&D lab. (Greentech Media)
Number crunch $67 billion Annual amount sought by Africa from developed nations to mitigate the effects of climate change. African leaders met in Libya this week to firm up the draft proposal.

About this article
Cite this article
News briefing: 3 September 2009. Nature 461, 16–17 (2009). https://doi.org/10.1038/461016a
Published:

Issue Date:

DOI: https://doi.org/10.1038/461016a