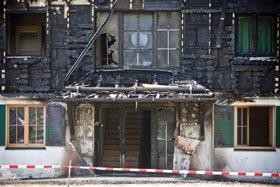 Militant animal-rights activists were responsible for the torching of the Alpine holiday home (pictured) of Daniel Vasella, head of the Swiss pharmaceutical company Novartis, in the early hours of 3 August, Swiss authorities assume. The chalet was destroyed but no one was hurt.
Novartis has reported at least ten other recent attacks on its employees. These include the desecration of graves of Vasella's family and the theft of his mother's ashes at the end of last month, as well as the placing of incendiary devices under the cars of Novartis's administrative chief, Ulrich Lehner, in May.
Swiss police say they expect further attacks. The Stop Huntingdon Animal Cruelty (SHAC) group has called an Action Week for 24–30 August against major customers of Huntingdon Life Sciences, a contract animal-testing company near Cambridge, UK, that has faced a sustained campaign of attacks. Novartis denies being a Huntingdon Life Sciences customer, as the SHAC website claims.
About this article
Cite this article
Novartis targeted by animal-rights extremists. Nature 460, 791 (2009). https://doi.org/10.1038/460791f
Published:

Issue Date:

DOI: https://doi.org/10.1038/460791f