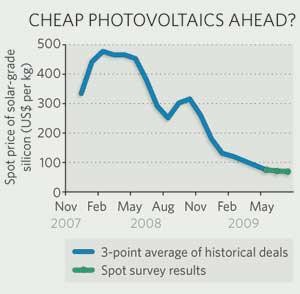 The price of silicon for the solar-power industry has plunged in the past year as a result of increasing supplies and a sharp drop in demand, with the price of silicon photovoltaic panels poised to follow.
The spot price of solar-grade silicon — for immediate delivery — has fallen by roughly 77%, from an average of more than US$300 per kilogram last year to $67 per kilogram today, according to the London-based consultancy New Energy Finance (see graph).
That has forced silicon and wafer suppliers to renegotiate contracts signed last year for delivery this year. Contracts signed at $150 per kilogram have been cancelled or renegotiated at roughly 50% discount.
Even before the global financial crisis, analysts had warned that supplies would outstrip demand in 2009, with new manufacturing facilities coming online at a time when countries such as Spain are scaling back solar subsidies. The good news for solar manufacturers, the consultancy reports, is that they should be able to halve the price of panels, which should spur demand.
About this article
Cite this article
Plummeting silicon prices may boost solar sales. Nature 460, 677 (2009). https://doi.org/10.1038/460677c
Published:

Issue Date:

DOI: https://doi.org/10.1038/460677c