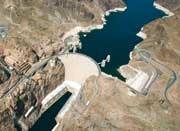 By 2057, climate change could cause a tenfold increase in the annual risk of water shortages in the southwestern United States, say Balaji Rajagopalan at the University of Colorado in Boulder and his colleagues. Rajagopalan's team modelled a variety of management and climate scenarios for varying levels of potential demand over the period 2008–57 for the dam-created Lakes Powell and Mead (the latter pictured right), which together store Colorado River water for states including California, Arizona and Nevada.
Most projections suggest that the river's flow will fall by 6–20% by the middle of the century. A 10% drop would mean a 25% chance of reservoirs being fully depleted on an annual basis, and a 20% drop would result in a 50% risk. Drought risk rises steeply after 2026, but management interventions could do much to reduce the risk of reservoir depletion, say the researchers.
About this article
Cite this article
Water management: Colorado be dammed. Nature 460, 669 (2009) doi:10.1038/460669a
Comments
By submitting a comment you agree to abide by our Terms and Community Guidelines. If you find something abusive or that does not comply with our terms or guidelines please flag it as inappropriate.