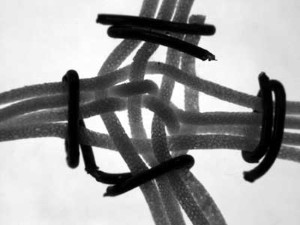 When gas rushes through solidifying foam to create porous polymers — used worldwide in insulation, packaging and sponges — it randomly scatters into bubbles of varying size.
Wiebke Drenckhan, a CNRS researcher at the University of Paris South, and her colleagues now report a way to create plastics filled with ordered and nearly uniform bubbles. The researchers combine chemical reagents, surfactants, air and water in such a way that bubbles form and pack together in the liquid phase just before the surrounding material 'freezes' in a polymerization reaction.
Working with German chemicals company BASF, in Ludwigshafen, they have created bubble-stuffed foam sheets and threads that absorb water and can even be woven or knitted into fabrics (pictured above). Such foams might be used as membranes, acoustic filters or shear-resistant wraps for fibres containing carbon nanotubes.
About this article
Cite this article
Materials science: Foam finesse. Nature 460, 668 (2009) doi:10.1038/460668d
Comments
By submitting a comment you agree to abide by our Terms and Community Guidelines. If you find something abusive or that does not comply with our terms or guidelines please flag it as inappropriate.