Oil and gas company ExxonMobil, whose chief executive Rex Tillerson called the idea of ethanol as a biofuel "moonshine" in 2007, last week announced a US$600-million research alliance to develop biofuels from photosynthetic algae.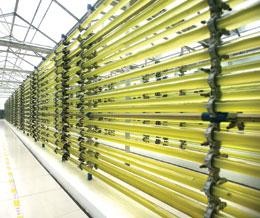 The multi-year project sees Exxon team up with Synthetic Genomics, the biotechnology company in La Jolla, California, co-founded by Craig Venter, which numbers another oil and gas giant, BP, among its investors.
Synthetic Genomics will receive $300 million — more, if deemed successful — to develop high-yielding algal strains and their large-scale cultivation. Exxon is spending an equal sum internally on engineering and manufacturing expertise to support the research.
About this article
Cite this article
ExxonMobil invests in algae for biofuel. Nature 460, 449 (2009). https://doi.org/10.1038/460449b
Published:

Issue Date:

DOI: https://doi.org/10.1038/460449b