Emile Gallé, Nature and Symbolism: Influences from Japan
Georges de La Tour Departmental Museum, Vic-sur-Seille, Moselle, France Until 30 August 2009
Characterized by sinuous shapes and subtle colours, the glass vases, bowls and other objects made by the nineteenth-century French artist-designer Emile Gallé and his factory are still highly regarded. But his interest in botany and evolution is less well known. An exhibition this summer in Moselle, northeastern France, explores how Gallé's work was influenced by nature and by Japanese art and design. The show is co-curated by scientist François Le Tacon of the French National Institute for Agronomic Research in Nancy, France.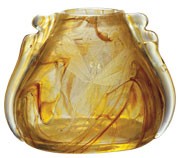 Gallé was one of the founders of art nouveau, an influential art and design movement. He learnt glass-making skills as an apprentice, but after taking over his father's factory in Nancy in 1875, he created designs that were made by its artisan employees. He exploited the sensual properties of glass, using acid etching to form opaque vessels with layered colours and shaped surfaces. His organic designs did not simply borrow from nature — they expressed contemporary thought and politics. Gallé was aware of Darwin's work by 1877 and owned a copy of Ernst Haeckel's Art Forms in Nature (1899–1904).
Plant, insect and animal motifs were derived from his careful observations, but also held deeper meanings. "Beetles symbolized industriousness; the thistle symbolized Nancy, Lorraine and separation from Germany; the rose symbolized France and the lover," note Jennifer Hawkins Opie in Art Nouveau 1890–1914 (V&A Publications, 2000). Gallé was also inspired by aquatic flora and fauna, as shown in nine works incorporating themes such as undulating strands of seaweed and deep sea colours.
Japanese artwork displayed in Europe at the end of the nineteenth century captivated many western artists and designers. Gallé himself owned woodblock prints by Hokusai and others, and he befriended the Japanese botanist Hokkaï Takashina after meeting him at a horticultural exhibition in Nancy in 1886. They were both interested in chrysanthemums, a potent symbol in Japan, which Gallé used as a decorative motif. The internally crackled and coloured glass used by Gallé and his artisans, although made in France, was inspired by Japanese watercolours and lacquerware, as well as carved rock crystal and jade from China.
From 1886 until his death in 1904, Gallé investigated evolutionary mechanisms in botany, an interest covered in the exhibition. Displayed, for example, are plates illustrating the orchid Aceras hircina, from a paper on polymorphisms in orchids local to Lorraine that Gallé presented at an international botanical congress in Paris in 1900. They underscore how Gallé's biological exactitude and interest in symbolism generated his incomparable designs.
About this article
Cite this article
Martin, C. Evolution's influence on art nouveau. Nature 460, 37 (2009). https://doi.org/10.1038/460037a
Comments
By submitting a comment you agree to abide by our Terms and Community Guidelines. If you find something abusive or that does not comply with our terms or guidelines please flag it as inappropriate.