Discovery of the sexually explicit figurine of a woman, dating to 35,000 years ago, provides striking evidence of the symbolic explosion that occurred in the earliest populations of Homo sapiens in Europe.
Access options
Subscribe to Journal
Get full journal access for 1 year
$199.00
only $3.90 per issue
All prices are NET prices.
VAT will be added later in the checkout.
Tax calculation will be finalised during checkout.
Buy article
Get time limited or full article access on ReadCube.
$32.00
All prices are NET prices.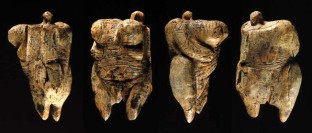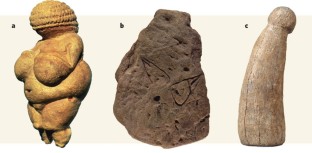 References
Conard, N. J. Nature 459, 248–252 (2009).

Bosinski, G. Homo Sapiens (Errance, 1990).

Mellars, P. Nature 439, 931–935 (2006).

Conard, N. J. & Bollus, M. J. Hum. Evol. 44, 331–371 (2003).

Clottes, J. (ed.) La Grotte Chauvet: L'Art des Origines (Seuil, 2001).

Broglio, A. & Dalmeri, G. (eds) Pitture Paleolitiche nelle Prealpi Venete (Museo Civico di Storia Naturale di Verona, Verona, 2005).

Roebroeks, W. et al. (eds) Hunters of the Golden Age (Analecta Praehistorica Leidensia, Leiden, 1999).

Ucko, P. J. & Rosenfeld, A. Palaeolithic Cave Art (Weidenfeld & Nicolson, 1967).

Lewis-Williams, D. The Mind in the Cave (Thames & Hudson, 2002).

Henshilwood, C. S. et al. J. Hum. Evol. (in the press).

Vogelsang, R. Middle-Stone-Age-Fundstellen in Südwest-Namibia (Heinrich-Barth-Inst., Cologne, 1998).

Mithen, S. The Prehistory of the Mind (Thames & Hudson, 1996).

Klein, R. G. Evol. Anthropol. 17, 267–281 (2008).
About this article
Cite this article
Mellars, P. Origins of the female image. Nature 459, 176–177 (2009). https://doi.org/10.1038/459176a
Published:

Issue Date:

DOI: https://doi.org/10.1038/459176a
This article is cited by
Nature (2009)

Nature (2009)