Intracellular membrane fusion has been mimicked in vitro using a mix of 17 purified proteins and lipid bilayers. This technical tour de force allows the study of how cells orchestrate and perform such fusion events.
Your institute does not have access to this article
Access options
Subscribe to Journal
Get full journal access for 1 year
$199.00
only $3.90 per issue
All prices are NET prices.
VAT will be added later in the checkout.
Tax calculation will be finalised during checkout.
Buy article
Get time limited or full article access on ReadCube.
$32.00
All prices are NET prices.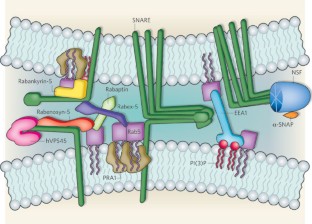 References
Schoenheimer, R. The Dynamic State of Body Constituents (Harvard Univ. Press, 1942).

Ohya, T. et al. Nature 459, 1091–1097 (2009).

Ungar, D. & Hughson, F. M. Annu. Rev. Cell Dev. Biol. 19, 493–517 (2003).

Wickner, W. & Schekman, R. Nature Struct. Mol. Biol. 15, 658–664 (2008).

Grosshans, B. L., Ortiz, D. & Novick, P. Proc. Natl Acad. Sci. USA 103, 11821–11827 (2006).

Skehel, J. J. & Wiley, D. C. Cell 95, 871–874 (1998).

Weber, T. et al. Cell 92, 759–772 (1998).

Singer-Krüger, B. et al. J. Cell Biol. 125, 283–298 (1994).

Shnyrova, A. V. et al. J. Cell Biol. 179, 627–633 (2007).

Zwilling, D. et al. EMBO J. 26, 9–18 (2007).

Martincic, I., Peralta, M. E. & Ngsee, J. K. J. Biol. Chem. 272, 26991–26998 (1997).

Kuzmin, P. I. et al. Proc. Natl Acad. Sci. USA 98, 7235–7240 (2001).

Bashkirov, P. V. et al. Cell 135, 1276–1286 (2008).

Martens, S., Kozlov, M. M. & McMahon, H. T. Science 316, 1205–1208 (2007).
About this article
Cite this article
Collins, R., Zimmerberg, J. A score for membrane fusion. Nature 459, 1065–1066 (2009). https://doi.org/10.1038/4591065a
Published:

Issue Date:

DOI: https://doi.org/10.1038/4591065a