Vienna in 1900 was a place of intellectual tumult, a city at the centre of both psychiatry and modernism. The Wellcome Collection's latest exhibition Madness and Modernity, showing in London until 28 June, explores how ideas of the mind from Sigmund Freud and others influenced views of madness in a period of great change. Fears of living in a modern city created anxieties that resonate today, raising questions about our attitudes to mental illness and its treatment.
A major retrospective of Wassily Kandinsky's work opened this month at the Centre Pompidou in Paris, running until 10 August. The exhibition probes beyond his popular image as the inventor of abstract painting. It includes watercolours and manuscripts from 1914–17 that were recently rediscovered in his native Russia, and a portfolio from the Bauhaus school that was made for his 60th birthday in 1926. Kandinsky's vivid use of colour — as in his Einige Kreise (1926; pictured above) — may have been influenced by his experiences of synaesthesia.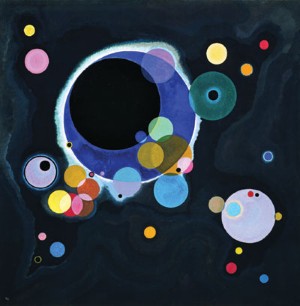 Language is explored in Tangled Alphabets, an exhibition of work by two South American artists, the Argentinian León Ferrari and the Swiss-born Brazilian painter Mira Schendel. On show at New York's Museum of Modern Art until 15 June, their drawings, sculptures and paintings explore the philosophy of language in visual terms — as the embodiment of voices, words and gestures, and as a metaphor of the human acts of writing and naming.
About this article
Cite this article
Culture dish. Nature 458, 973 (2009). https://doi.org/10.1038/458973b
Comments
By submitting a comment you agree to abide by our Terms and Community Guidelines. If you find something abusive or that does not comply with our terms or guidelines please flag it as inappropriate.