Concert at the Highline Ballroom, New York 3 March 2009
Swapping his microscope for a microphone, New York University neuroscientist Joseph LeDoux (pictured) took to the stage of the Highline Ballroom, a Manhattan music club. Leading his folk rock band, LeDoux articulated each line of his science-inspired songs with conviction, accompanied by electric guitar. His group, The Amygdaloids, featured heavily at Rock-It Science, a concert held last month to raise funds for research into sensory-processing disorders.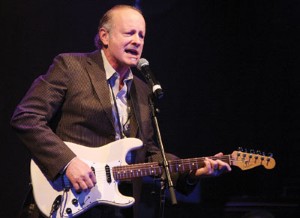 The charity concert, the brainchild of LeDoux and co-organized with psychologist Jennifer Jo Brout of the Sensation and Emotion Network in New York, mixed scientists with professional musicians, and was headlined by singer–songwriter Rufus Wainwright.
LeDoux, who studies the biological mechanisms underlying emotional memory, sees rock 'n' roll as a perfect vehicle for inspiring interest in neuroscience. "All our songs have a mind–brain angle. We believe we can interest someone in tough concepts through music." The Amygdaloids performed tunes from their new album, Brainstorm, some of which explore how love can disrupt normal thought processing. In Crime of Passion, a jealous lover's rage momentarily overwhelms his rational thinking: "Sentenced to death for a crime I did commit/I couldn't stop/I did it in a fit/of anger and pain."
Cognitive psychologist, vocalist and guitarist Daniel Levitin of McGill University in Montreal, Canada, sang a scientific homage to the 1989 hit Wicked Game in which Chris Isaak croons "No, I don't want to fall in love." Levitin's version, I Don't Want My Brain Cut In Two, refers to a drastic procedure once used to treat epilepsy.
Levitin says his experiences in the recording industry now inform his work in the lab. "I was always astonished by how long it takes to make a three-minute song, and how many times you have to record to get it right." He explains that he has to be similarly patient when repeating experiments or redrafting a research paper.
Other scientist performers included neuroscientist and classical guitarist David Sulzer, known on stage as Dave Soldier, and geneticist Pardis Sabeti, of Boston-based band Thousand Days. Among the professional musicians was guitarist Lenny Kaye, who has recorded with punk singer Patti Smith, and Twisted Sister's Dee Snider.
Wainwright held nothing back in his set. He professed he "failed every science course [he] ever took", but supported the charity gig because "scientists have become the new oppressed people, and I'm always there for the oppressed."
About this article
Cite this article
Khamsi, R. Songs on the brain. Nature 458, 835–836 (2009). https://doi.org/10.1038/458835b
Comments
By submitting a comment you agree to abide by our Terms and Community Guidelines. If you find something abusive or that does not comply with our terms or guidelines please flag it as inappropriate.