Obama nominates Margaret 'Peggy' Hamburg as FDA chief.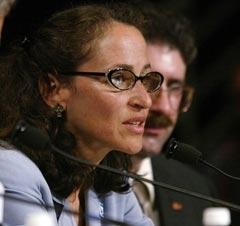 Physician Margaret Hamburg, once the youngest-ever health commissioner for New York City, was nominated on 14 March by President Barack Obama to head the beleagu­ered US Food and Drug Administration (FDA). If confirmed by the Senate, she would bring to the commissioner's job a background of public-health experience that runs from working at the National Institute of Allergy and Infectious Diseases to advising the Centers for Disease Control and Prevention, and from bioterrorism planning to pandemic-flu preparation and tuberculosis control.
The president also named Joshua Sharfstein, a paediatrician who is the health commissioner in Baltimore, Maryland, to be Hamburg's principal deputy commissioner. His appointment does not require Senate confirmation.
The $2.6-billion agency, still regarded as a global gold standard for drug regulation, has seen its image tarnished and its morale sapped in the past decade by a slew of regulatory failures related to both food and drugs (see Nature 457, 770–771; 2009). Numerous reports by government and scientific bodies have documented the erosion of the FDA's scientific and oversight capabilities, even as it faces burgeoning responsibilities. And episodes such as its delay in making the emergency contraceptive Plan B available over the counter led to charges of undue political influence on its decision-making under former commissioner Andrew von Eschenbach.
Obama, speaking in his weekly video address, said the FDA has been "underfunded and understaffed", and announced the formation of a Food Safety Working Group of top government officials.
People familiar with Hamburg and Sharfstein said last week that although the two are not bench scientists, they would bring a science-based approach to the FDA.
Hamburg "has a great appreciation that public policy must be driven by the very best science", says Gail Cassell, a microbiologist and vice-president of scientific affairs at drug company Eli Lilly, based in Indianapolis, Indiana. For instance, as health commissioner in New York in 1991, Hamburg campaigned vigorously for — and achieved — the establishment of a then-controversial needle-exchange programme to slow the transmission of HIV/AIDS. She also vocally opposed a requirement that AIDS educators stress sexual abstinence to city students.
In a rare move, Republican mayor Rudolph Giuliani asked Hamburg to stay on after he took over from Democrat David Dinkins, who had hired her. During her tenure, she boosted childhood immunization rates to record levels while dramatically lowering tuberculosis incidence by implementing a novel programme later cited as a model by the World Health Organization. She also created the country's first modern bioterrorism preparedness programme.
Hamburg left New York to become a lead strategist for the Department of Health and Human Services under then-president Bill Clinton, where she was in charge of planning for bioterrorism, among other things. "She was definitely ahead of the curve" in seeing the need for bioterrorism preparedness, says Thomas Inglesby, deputy director of the Center for Biosecurity of the University of Pittsburgh Medical Center in Pennsylvania. Most recently, she has served as a senior scientist at the Nuclear Threat Initiative in Washington DC, where she developed a strategic plan and grant-making portfolio addressing biological threats.
Sharfstein, a former staffer for liberal Congressman Henry Waxman (Democrat, California), has a history of confronting the drug industry. In 1997, as a medical resident, he wrote to The New England Journal of Medicine complaining that a Pfizer-sponsored event promoting its products to young doctors in Boston, Massachusetts, offered free pool and alcohol, urging them to "rack 'em up & toss 'em down". (In a response, the company admitted that its slogan "created a poor impression".)
In 2007, as health commissioner in Baltimore, Sharfstein successfully petitioned the FDA to oppose the use of over-the-counter cough and cold medicines in children under two years old.

About this article
Cite this article
Wadman, M. Incoming chief to tackle woes of US food and drug agency. Nature (2009). https://doi.org/10.1038/458271a
Published:

DOI: https://doi.org/10.1038/458271a