Vivek Kundra promises greater transparency and more data.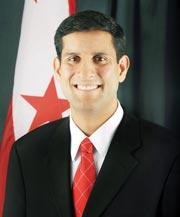 The BlackBerry-toting Barack Obama last week took a step towards modernizing the US government's information system by appointing Vivek Kundra to the newly created post of chief information officer.
Kundra, who for the past two years was chief technology officer (CTO) for Washington DC, will have authority over IT spending across the entire federal government, a sum that currently comes to $71 billion per year. He will report to the director of the White House Office of Management and Budget.
"For those of us who have been hoping to see progress in Obama's stated vision of rebooting the federal bureaucracy, [Kundra's appointment] is like winning the World Series," says Andrew Rasiej, founder of Personal Democracy Forum, an annual conference and website on politics and technology.
Indeed, Kundra has won widespread praise for his innovations in Washington, which include getting city agencies to provide public data in standard formats such as XML and RSS feeds.
Kundra also embraced 'cloud computing' by moving all 38,000 employees for Washington DC onto the Google Apps office suite, which stores data and applications online rather than on individual computers. And he recently implemented an internal management tool in which information about the status and budget of each city project is displayed in a uniform, easy-to-read format.
"The one real measure of a CTO is their accomplishments," says Bob Gourley, CTO for the consulting firm Crucial Point based in Manassas, Virginia, and author of the blog CTOvision.com. "And Vivek has racked them up."
"There are three pillars to my agenda," Kundra told Nature in an interview last December. "Engaging citizens, driving transparency and greatly decreasing the cost of government operations." In a 5 March news conference announcing his appointment, he promised to take much the same approach at the federal level. For example, he says, "We want to launch a data.gov site to make a vast array of government data public."
However, Kundra also warned that changing a $71-billion operation will take time. Any federal reliance on cloud computing, for example, will have to be evaluated in the light of security requirements. Likewise, any data streams coming out of data.gov will have to comply with legislation that protects citizens' privacy.

About this article
Cite this article
Waldrop, M. Obama appoints first federal IT chief. Nature (2009). https://doi.org/10.1038/458136a
Published:

DOI: https://doi.org/10.1038/458136a