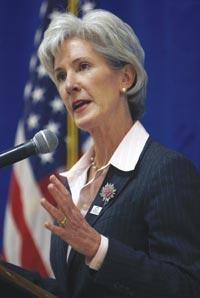 Governor Kathleen Sebelius of Kansas (Democrat) was nominated to head the US Department of Health and Human Services by President Barack Obama on 2 March. If confirmed by the US Senate, Sebelius (pictured) will play a key role as the president seeks to overturn restrictions on federal funding for human embryonic stem-cell research (see _Nature_ 457, 1068–1069; 2009).
Sebelius's nomination may speed the naming of other leaders in the vast department of 65,000 employees, including the chiefs of the National Institutes of Health, the Food and Drug Administration and the Centers for Disease Control and Prevention.
The nomination comes a month after a previous nominee, Thomas Daschle, formerly the top Democrat in the Senate, withdrew under fire for failing to pay $128,000 in back taxes.
About this article
Cite this article
Obama has second go at choosing US health chief. Nature 458, 20 (2009). https://doi.org/10.1038/458020f