Accusations of funding mismanagement prompt collaboration to break up.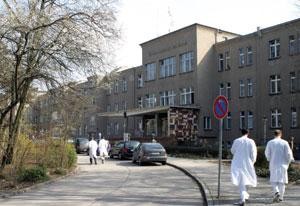 A historic biomedical research campus in former East Germany is retrenching after a prolonged political attack. Unproven accusations alleged that €15 million (US$20 million) of state money had flowed illegally into the private Helios hospital in the Berlin suburb of Buch. Clinical researchers there now find themselves struggling to rebuild collaborations with basic scientists.
The dispute concerns a contract forged in 2001 between a national research centre, the Max Delbrück Center for Molecular Medicine, and two hospitals: Helios, which is private, and the Charité, which is Berlin's teaching hospital. The aim was to promote translational research. But the hospitals terminated the contract in December 2008 "because we felt that the scandalizing would never stop unless we did", says Karl Max Einhäupl, head of Charité. Einhäupl says that dividing funds between research and patient care is always complicated, but that he doesn't think any state money was used inappropriately.
Buch developed over the past century as a state-of-the-art biomedical and clinical campus. After reunification, the former West German research system absorbed the basic-research institute but not its clinical facilities, which were eventually privatized.
"Translational research works best when clinicians and basic scientists meet on a daily basis. "
Keen to improve the parlous state of translational clinical research in Germany — something that East Germany had done well in Buch — the German government helped to facilitate an agreement with the private sector. Clinicians from Charité's medical school were appointed to head clinics at Helios, and their salaries were shared between the hospitals. This gave clinicians with research interests convenient access to the laboratory facilities at Buch.
But Germany has always been uncomfortable with public–private partnerships, particularly within the cash-strapped health system. For more than a year, politicians had been piling pressure on the hospitals, suggesting that public money was seeping into patient care under the guise of research. Two investigations by the consultancy firm PricewaterhouseCoopers failed to disentangle the payments, but concluded that there was "no badly intentioned, deliberate cross-transfer of funds".
Now that the contract has been terminated, clinic heads at Helios have had to decide whether to stay with the hospital and lose their academic status, or move into the city at Charité and lose convenient access to the Buch laboratory facilities.
In the future, the Max Delbrück Center will collaborate with Helios on a project-by-project basis with much paperwork to specify who pays for what.
"The flow of finance will be clearer this way, but [the new bureaucracy] doesn't make our lives particularly pleasant," says Frederick Luft, a nephrologist and hypertension expert who decided to stay with Helios so that he could stay in Buch. "It makes a big difference to be able to walk 10 minutes between the hospital and the lab," he says.
Many of Luft's colleagues also believe that the distance between suburban Buch and the downtown Charité clinics, which can take up to an hour on public transport, makes collaborations less attractive.
"Translational research works best when clinicians and basic scientists meet on a daily basis," says Detlev Ganten, founder of the Max Delbrück Center, former Charité chief and architect of the public–private collaboration contract in 2001. Still, he says, "Buch is not as disconnected as it was, and it will be possible to get things to work again."
Another part of the effort to promote translational research at Buch has also run into trouble. A publicly funded Experimental and Clinical Research Center had been planned to be built on Helios land in 2001, but will now be built a few hundred metres away, next to the Max Delbrück Center, instead. The change will delay its planned 2011 opening by at least a year. Collaborations between the Max Delbrück Center and the Charité, both of which are publicly funded, will now intensify and be organized through the Experimental and Clinical Research Center.
This week, the Buch campus sees at least one piece of good news. Research minister Annette Schavan is scheduled to open an ambitious new 10-million magnetic resonance imaging facility at the Max Delbrück Center. It includes a 7-tesla imager for use in humans, and a 9.4-tesla imager for animals.
Aside from their more conventional use to look inside the brain, the machines will also be used to develop methods for imaging the beating heart, a challenge very few groups around the world are attempting. The facility is meant as another step in Germany's embrace of translational research in medicine. "Imaging is an important bridge between basic research and medicine," says pharmacologist Walter Rosenthal, scientific director of the Max Delbrück Center.
Related links
Related links
Related external links
About this article
Cite this article
Abbott, A. Translational research in Berlin hits a roadblock. Nature 457, 363 (2009). https://doi.org/10.1038/457362b
Comments
By submitting a comment you agree to abide by our Terms and Community Guidelines. If you find something abusive or that does not comply with our terms or guidelines please flag it as inappropriate.