The biotechnology industry is weathering the financial crisis better than some. That doesn't mean it's in great shape, reports Heidi Ledford.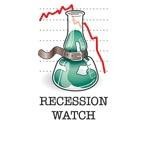 For the past decade, the annual MassBio Investors Forum has been the place for Massachusetts biotechnology companies to network and woo new investors. But although the courtship continued last month at the Sheraton Boston hotel, the meeting rooms were also filled with investors and executives taking a crash course in how to survive the current economic climate.
The 9 December meeting, organized by the Massachusetts Biotechnology Council, included new sessions about alternative sources of funding, such as non-profit foundations and underused government programmes. The council has also organized 'pharma days' during which local biotechnology executives can speak with business-development leaders at pharmaceutical firms, in the hope of facilitating partnerships. Robert Coughlin, the council's president, advises struggling local biotechs: "Just get out there and raise money," he says. "You've got to flip over every rock that's out there."
There's no question that the biotechnology industry is facing turbulent times. The cash-hungry industry has long struggled to meet exorbitant research-and-development costs in the decade-long quest to produce a marketable drug — and perhaps only then turn a profit. Several biotech companies have already filed for bankruptcy since the onset of the economic crisis, among them Introgen Therapeutics in Houston, Texas; Chemokine Therapeutics in Vancouver, Canada; and Orchestra Therapeutics in Carlsbad, California.
Some industry observers worry that worthwhile therapies will get lost in the shuffle. "At the moment, nobody can raise money," says Aisling Burnand, chief executive of the BioIndustry Association, a trade organization for UK biotechnology firms. "I think there's a real possibility that some really good companies will go to the wall, and that's very worrying." This could be a particular problem for companies that haven't acquired venture-capital financing recently and had planned to knock on doors early in 2009.
Others argue that culling weaker companies will ultimately benefit the industry. "Getting rid of some of the weak ones will help focus attention on some of the remaining stocks that are pretty strong," says Paul Cuddon, a life-sciences analyst at the investment bank KBC Peel Hunt in London. "That's what I'm hoping for." He and others argue that investors will continue to support the stronger biotechs no matter what the financial climate.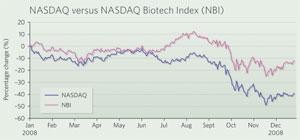 Thus far, the biotech sector has fared relatively well in the financial storm, although many small companies have been hard hit. Overall, the industry outperformed broader markets in 2008; for instance, whereas the NASDAQ declined by 41% during the year, the NASDAQ Biotech Index — which tracks 136 companies — lost only 12% (see chart). "People have to invest somewhere, and if you compare the biotech index to most of the other industries, it's looking pretty attractive," says Jens Eckstein, a Boston-based venture capitalist at TVM Capital. "People who had their money in large-, mid- and small-biotech mixed portfolios lost less money than many other people."
But picking apart those portfolios shows that smaller companies have borne the brunt of the damage. According to the Burrill Biotechnology Indices, compiled by life-science investment specialists Burrill & Company in San Francisco, California, large biotech firms lost 13% of their market value in 2008, medium-sized firms lost 31% and small companies lost 43%. "Effectively you're losing part of the food chain," says Burnand.
Meanwhile, there has been an inevitable knock-on effect for researchers. Matt Gardner, president and chief executive of BayBio, an association of life-sciences companies in northern California, says that hiring freezes at small companies have lengthened the job hunt for unemployed scientists in the region. "Normally there's so much demand for talent, they would be placed in a new position in 30 to 60 days," he says. "But now there aren't as many smaller companies ready to swallow them up."
If private equity doesn't keep moving, venture capitalists won't be able to raise the next round of funding. Matt Gardner
As investors tighten their purse strings, survival may boil down to how much cash a company had squirrelled away before the crisis hit. By that measure, many biotechs are in bad shape. According to BIO, a biotechnology trade organization based in Washington DC, roughly a third of small public biotechnology companies in the United States have insufficient cash to survive the next six months. In a 14 October report on European biotechnology firms, analysts at the investment bank Goldman Sachs concluded that half of such companies would face funding difficulties in 2009 or 2010: "In our view, companies that need to raise additional capital will either fail to do so … or may be forced to raise cash at an exorbitant cost, diluting existing shareholders significantly."
So it is no surprise that many companies are cutting payrolls and shelving projects in an attempt to conserve cash. Last month, Emisphere Technologies announced that it would change its business model, lay off employees and close a facility in Tarrytown, New York, to focus efforts at its headquarters in Cedar Knolls, New Jersey. And Peptimmune in Cambridge, Massachusetts, has cut staff by more than 50% and put a hold on research into potential therapies for Alzheimer's disease and Parkinson's disease. Others are trying new avenues to raise money. Vernalis of Berkshire, UK, has sold the rights to some of its projected future royalty income. And Transcept Pharmaceuticals, a privately held firm in Point Richmond, California, has gone public by performing a reverse merger with the publicly traded company Novacea based in South San Francisco; the merger allows Trancept access to public financing without having to launch a lengthy and expensive initial public offering.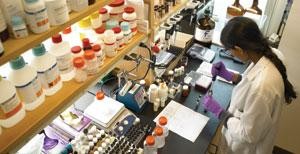 Meanwhile, conventional funding sources have not dried up entirely. The crisis had little immediate impact on venture-capital investment, says Gardner. "We're still seeing plenty of venture capital happening," he says. "But in the longer run, if private equity doesn't keep moving, venture capitalists won't be able to raise the next round of funding." In a recent survey of more than 400 US venture capitalists, 92% predicted that venture investment would slow this year relative to 2008, and 61% predicted that the decline would exceed 10%. But the life sciences were viewed as the second safest investment — after clean technology — and a quarter of respondents thought that investment in the life sciences would increase in 2009.
Venture capitalists have become increasingly conservative during the past few years, and the financial crisis is likely to exacerbate that trend. Although it was once standard to keep a few 'high risk' companies in a firm's biotechnology portfolio, "today you have to work much harder to convince people that this is worth taking the risk," says Eckstein. Investors will probably also push harder to ensure that companies are efficient and focused, and that company executives initiate early discussions with potential partners in the pharmaceutical industry. At the recent MassBio forum, Christoph Westphal — a former venture capitalist and co-founder of Sirtris, a biotechnology company that was purchased by GlaxoSmithKline in June 2008 — predicted that venture capitalists will increasingly fund individual projects rather than entire companies.
Some have looked to the pharmaceutical industry for salvation. Large pharmaceutical companies were already snapping up biotechnology companies to replenish dwindling product pipelines even before the market crashed late last year. When stock values plunged, executives of several large pharmaceutical companies vowed to go on a shopping spree while prices were low. The Swiss pharmaceutical company Roche, for example, recently purchased Memory Pharmaceuticals, based in Montvale, New Jersey, after the company's stock plummeted to $0.15 per share. More acquisitions are expected. But researching and assimilating a biotechnology company can be expensive, and there are limits to how much pharmaceutical companies, many of which are downsizing themselves, are willing to buy. "It is widely acknowledged that Big Pharma is increasingly reliant on biotech for new product development," wrote Cuddon in a 25 November report, "but we doubt Big Pharma will be UK biotech's knight in shining armour."
Partnerships between big pharma and biotechnology companies, though, are expected to accelerate. On 12 December, New York-based Bristol-Myers Squibb entered into a partnership with San Francisco's Exelixis, providing a welcome influx of cash to the mid-sized biotechnology company that had outgrown the option of renewed venture-capital funding. However, Tibor Papp, head of consulting at PharmaVentures, a UK-based business consultancy for pharmaceutical firms, notes that licensing deals with pharmaceutical companies declined by nearly 30% in October 2008 compared with the same month in 2007.
What all this means for the future of biotech remains to be seen. Eckstein predicts that scientists and investors may wait longer and gather more preliminary data before launching a company. Coughlin expects widespread mergers and partnerships to leave the field with fewer, larger companies. And Papp says investors will emphasize business acumen over scientific prowess among biotech executives. Biotechs, he says, "will resemble corporate-finance-oriented companies with stronger business strategies and a deal maker at the top. Biotech companies will not just be pure science companies going into the future."

Additional information
For more of Nature's coverage on how the recession affects science, see our special
Related links
Related links
Related links in Nature Research
Related external links
About this article
Cite this article
Ledford, H. Biotechs feel the pain. Nature 457, 136–137 (2009). https://doi.org/10.1038/457136a
Published:

Issue Date:

DOI: https://doi.org/10.1038/457136a