The discovery of embryos in certain fossil fishes not only shows that internal fertilization and live birth evolved early in vertebrate history, but also raises questions about the origin of jawed vertebrates.
This is a preview of subscription content
Access options
Subscribe to Journal
Get full journal access for 1 year
$199.00
only $3.90 per issue
All prices are NET prices.
VAT will be added later in the checkout.
Tax calculation will be finalised during checkout.
Rent or Buy article
Get time limited or full article access on ReadCube.
from$8.99
All prices are NET prices.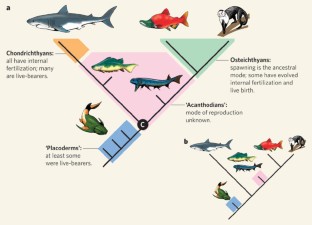 References
1

Long, J. A., Trinajstic, K. & Johanson, Z. Nature 457, 1124–1127 (2009).

2

Long, J. A., Trinajstic, K., Young, G. C. & Senden, T. Nature 453, 650–653 (2008).

3

Dennis, K. & Miles, R. S. Zool. J. Linn. Soc. 73, 213–258 (1981).

4

Moy-Thomas, J. A. & Miles, R. S. Palaeozoic Fishes (Chapman & Hall, 1971).

5

Long, J. A. Swimming in Stone: The Amazing Gogo Fossils of the Kimberley (Fremantle, 2008).

6

Janvier, P. Early Vertebrates (Oxford Sci. Publ., 1996).

7

Brazeau, M. D. Nature 457, 305–308 (2009).
About this article
Cite this article
Ahlberg, P. Birth of the jawed vertebrates. Nature 457, 1094–1095 (2009). https://doi.org/10.1038/4571094a