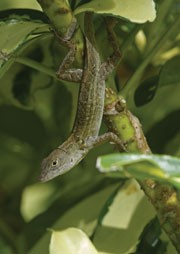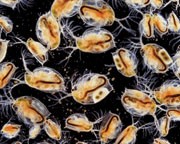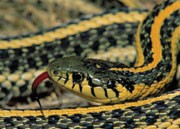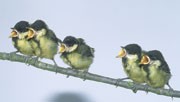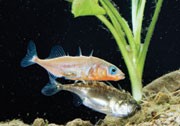 As Charles Darwin showed so convincingly, the fauna of islands provide excellent subjects for investigating evolution. The creature on the left, Anolis sagrei, is a case in point. Jonathan Losos and colleagues studied this lizard in experimental work, carried out in 2003, that involved the introduction of a predator of this species onto six islands in the Bahamas. Six other islands acted as controls. Losos and colleagues' aim was to test the hypothesis that, when organisms experience new environments, behavioural change prevents the operation of natural selection (they concluded that in this case it did not).
Readers can find out for themselves what the authors did at http://www.nature.com/evolutiongems. The paper concerned is one of "Fifteen evolutionary gems: A resource for those wishing to spread awareness of evolution by natural selection", which from today will be available as a collection on the Nature website. The "gems" are all papers, published in Nature over the past decade or so, that demonstrate the enduring explanatory power of Darwinian natural selection.
Examples are drawn from the fossil record, from extant organisms in natural and experimental habitats, and from molecular studies. The other images here — of (clockwise from top left) water fleas, Daphnia magna; fledglings of the great tit, Parus major; sticklebacks, Gasterosteus aculeatus; and a garter snake of the species Thamnophis sirtalis — provide a taster of the subjects of other papers in the collection.
The papers are free to download and disseminate, and each is accompanied by a brief editorial introduction to its context and significance.
About this article
Cite this article
A natural selection. Nature 457, 40 (2009). https://doi.org/10.1038/457040a
Published:

Issue Date:

DOI: https://doi.org/10.1038/457040a