A re-evaluation of the relationship between Earth's orbital parameters, ice-sheet extent and ocean circulation sets further puzzles for those trying to disentangle cause from effect in long-term climatic changes.
Your institute does not have access to this article
Access options
Subscribe to Journal
Get full journal access for 1 year
$199.00
only $3.90 per issue
All prices are NET prices.
VAT will be added later in the checkout.
Tax calculation will be finalised during checkout.
Buy article
Get time limited or full article access on ReadCube.
$32.00
All prices are NET prices.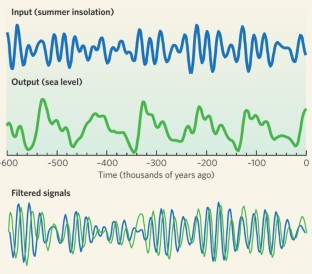 References
Lisiecki, L. E., Raymo, M. E. & Curry, W. B. Nature 456, 85–88 (2008).

Hays, J. D., Imbrie, J. & Shackleton, N. J. Science 194, 1121–1132 (1976).

Berger, A. Nature 268, 44–45 (1977).

Murphy, J. J. Q. J. Geol. Soc. Lond. 32, 400–406 (1876).

Milankovitch, M. Canon of Insolation and the Ice-age Problem (Engl. transl. of original 1941 publ., Narodna biblioteka Srbije, Belgrade, 1998).

Weertman, J. Nature 261, 17–20 (1976).

Imbrie, J. et al. Paleoceanography 7, 701–738 (1992).

Imbrie, J. et al. Paleoceanography 8, 699–735 (1993).

Ruddiman, W. F. Quat. Sci. Rev. 25, 3092–3112 (2006).

Tziperman, E., Raymo, M. E., Huybers, P. & Wunsch, C. Paleoceanography 21, doi:10.1029/2005PA001241 (2006).

Saltzman, B. & Maasch, K. A. Trans. R. Soc. Edinb. 81, 315–325 (1990).

Berger, A. J. Atmos. Sci. 35, 2362–2367 (1978).
About this article
Cite this article
Crucifix, M. Climate's astronomical sensors. Nature 456, 47–48 (2008). https://doi.org/10.1038/456047a
Published:

Issue Date:

DOI: https://doi.org/10.1038/456047a
Further reading
Marina I. Knight
Matthew A. Nunes
Guy P. Nason

Statistics and Computing (2012)