Dopamine dysfunction, which is implicated in Parkinson's disease and drug addiction, seems an unlikely culprit in fragile X syndrome. A surprising set of findings means a rethink is required.
This is a preview of subscription content
Access options
Subscribe to Journal
Get full journal access for 1 year
$199.00
only $3.90 per issue
All prices are NET prices.
VAT will be added later in the checkout.
Tax calculation will be finalised during checkout.
Buy article
Get time limited or full article access on ReadCube.
$32.00
All prices are NET prices.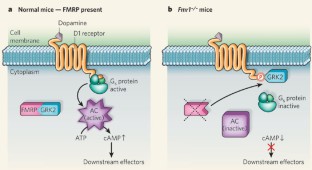 References
Garber, K. B., Visootsak, J. & Warren, S. T. Eur. J. Hum. Genet. 16, 666–672 (2008).

Penagarikano, O., Mulle, J. G. & Warren, S. T. Annu. Rev. Genomics Hum. Genet. 8, 109–129 (2007).

Wang, H. et al. Neuron 59, 634–647 (2008).

Wickens, J. R., Horvitz, J. C., Costa, R. M. & Killcross, S. J. Neurosci. 27, 8181–8183 (2007).

Berridge, K. C. Psychopharmacology (Berl.) 191, 391–431 (2007).

Calabresi, P., Picconi, B., Tozzi, A. & Di Filippo, M. Trends Neurosci. 30, 211–219 (2007).

Brennan, A. R. & Arnsten, A. F. Ann. NY Acad. Sci. 1129, 236–245 (2008).

Berry-Kravis, E. & Huttenlocher, P. R. Ann. Neurol. 31, 22–26 (1992).

Kelley, D. J. et al. Neurosci. Biobehav. Rev. 32, 1533–1543 (2008).

Hooper, S. R. et al. Neuropsychology 22, 36–47 (2008).

Hatton, D. D. et al. Am. J. Med. Genet. A 108, 105–116 (2002).

Bassell, G. J. & Gross, C. Nature Med. 14, 249–250 (2008).
About this article
Cite this article
Weinshenker, D., Warren, S. Fragile dopamine. Nature 455, 607–608 (2008). https://doi.org/10.1038/455607a
Published:

Issue Date:

DOI: https://doi.org/10.1038/455607a