Age is no barrier to productivity.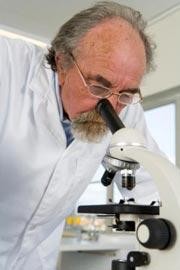 If the mind is the first to go, it doesn't seem to show up in the bibliography. A new study suggests that older scientists publish more than their younger counterparts.
A research team from the University of Quebec in Montreal, Canada, looked at the publication record of nearly 14,000 professors and found that those in their 50s and 60s published almost twice as many papers each year as those in their early 30s.
The survey, say its authors, is the strongest evidence yet that older scientists are at least as productive as their juniors, if not more productive. "We should not underestimate the older researcher," says team leader Yves Gingras, a historian of science.
Gingras became interested in the topic after reading that the average age for first grants from the US National Institutes of Health in Bethesda, Maryland, rose from 34 in 1970 to nearly 42 in 2004. His team looked at publication data for 13,680 scientists and scholars in Quebec between 2000 and 2007, noted each researcher's age, the number of papers published and the citation record according to the Thomson Reuters citation index.
It's better to keep researchers and let them work.
The findings held across both the sciences and the humanities. Unsurprisingly, the team found that productivity increased sharply throughout the late 20s and early 30s. But it continued to rise at a slower rate for researchers in their 40s and 50s. Active professors in their 60s continued to produce about three papers per year. The average impact factor of each paper fell during the rise in productivity, but turned upward again for papers published by older authors. Citations, meanwhile, remained stable, suggesting that older researchers were both more prolific and more highly cited than their juniors.
The survey is one of the largest of its kind, says Wolfgang Glänzel, a director at the Policy Research Centre for R&D Indicators at the Dutch-speaking Catholic University in Leuven, Belgium. He would like to know how many of the papers published by older authors are review articles, and what effect students had on their older co-authors' output. Both could be important factors in the apparent high productivity of senior scientists, he says.
"High impact is not the same as originality," adds Anthony van Raan, who studies science and technology policy at Leiden University in the Netherlands. Still, he says, the research makes a compelling case against mandatory retirement, which is commonplace throughout Europe. "It's better to keep [researchers] and let them work," he says. "They can be very productive."

About this article
Cite this article
Brumfiel, G. Older scientists publish more papers. Nature (2008). https://doi.org/10.1038/4551161a
Published:

DOI: https://doi.org/10.1038/4551161a